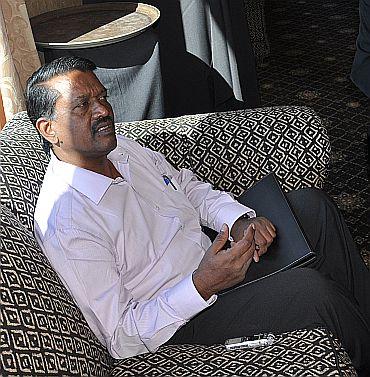 Professor Ramzan Darga, a Muslim, teaches Basava Philosophy and Veerashaivism at Karnataka's Gulbarga University. He was the keynote speaker at the Veerashaiva Samaja of North America 2010 Convention held on July 3 and 4 in Toronto. It was attended by over 450 people from Canada, the United States and India. 
Veerashaivism, founded by Vishwa Guru Basava in the 12th century, has around 30 million followers in India, largely in Karnataka. About 1,500 families that follow this philosophy live in North America.
The VSNA, chaired by Dr Nagbhushan Malakla, has 28 chapters. Its Toronto chapter, the only one in Canada, hosted this year's convention.
"Basava's philosophy is a culture/religion that has no temples," Darga told India Abroad. "Basava's message was of one God, one universe and one human kind. So, we can't differentiate between one person and another on the basis of the caste; we can't ill-treat anybody," he added.
He said he faced no conflicts between Islam and Basava's philosophy. "Why should there be any conflict?" he asked. "I am not a practicing Muslim. I don't believe in the name of God. I believe in one power that's universal and you may call it by any name. You can go for namaaz or pooja, but you are worshipping one God."
Darga said he used to be a Marxist and an atheist. "But the Basava philosophy and Veerashavism are such that any person can practice it without any conflict with his faith -- Muslims can do it, so also Christians and others," he added.
"It is like mathematics… It is not against any religion because it is universal and everything comes within it," he added.
Image: Professor Ramzan Darga