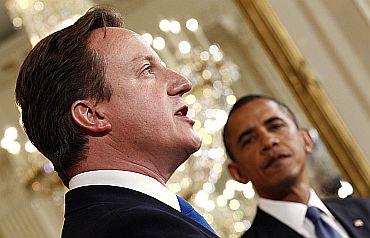 Asserting that the United States has the right strategy for Afghanistan to break the momentum of the Taliban, United States President Barack Obama on Tuesday said he would begin to transfer some of the American troops from this war torn country in July 2011.
"We have the right strategy. We are going to break the Taliban's momentum. We are going to build Afghan capacity, so Afghans can take responsibility for their future. We are going to deepen regional cooperation, including with Pakistan," Obama said in a joint media availability with the visiting British Prime Minister David Cameron.
"Over the coming years, Afghans will begin to take the lead in security and, in July of next year, we will begin to transfer some of our forces out of Afghanistan," Obama said setting aside all speculation over the deadline of draw-down of US troops from Afghanistan beginning July 2011.
Noting that Tuesday's historic Kabul conference is another major step forward in this regard, Obama said the Afghan government presented, and its international partners unanimously endorsed, concrete plans to implement Afghan President Hamid Karzai's commitments to improve security, economic growth governance and the delivery of basic services.
"The Afghan government presented its peace and reconciliation plan, which the United States firmly supports. Agreement was reached on a plan in which responsibility for security in Afghan provinces will transition to Afghan security forces.
"In addition, Afghanistan and Pakistan reached a historic agreement to increase economic opportunity for people on both sides of the border," he said.
These are all important achievements, and they go a long way towards helping create the conditions needed for Afghans to assume greater responsibility for their country, Obama said.
Afghanistan, in fact, was one of the major topics of discussion when Obama met Cameroon at the White House on Tuesday, the two leaders acknowledged at the joint press availability.
"Today, President Obama and I took stock of progress in this vital year. We reaffirmed our commitment to the overall strategy. A key part of that is training the Afghan National Army and Police so they can provide security for their country and our troops can come home," Cameron said.
"We also agreed on the need to reinvigorate the political strategy for Afghanistan. Insurgencies tend not to be defeated by military means alone. There must also be political settlement," Obama said.
"To those people currently fighting, if they give up violence, if they cut themselves off from Al Qaeda, if they accept the basic tenets of the Afghan constitution, they can have a future in a peaceful Afghanistan," he said.
Noting that there is real progress in Afghanistan, Cameron said last weekend, the first Afghan-led military operation took place successfully in Helmand, Afghans defending themselves.
Today for the first time in decades the government of Afghanistan has hosted an international conference on its own soil. Over 40 foreign ministers and 80 delegations assembled in Kabul to monitor progress and drive forward the international strategy.
"That is a real achievement, and we should congratulate President Karzai on it," Cameron said.
Obama said after the US, Britain is the largest contributor of combat forces in Afghanistan. British troops and civilians have served and sacrificed in some of the most dangerous parts of the country, he noted.
"This is not an easy fight, but it is a necessary one. Terrorists trained in Afghanistan and the tribal regions along the Pakistani border have killed innocent civilians in both of our countries. And an even wider insurgency in Afghanistan would mean an even larger safe haven for Al Qaeda and its terrorist affiliates to plan their next attack, and we are not going to let that happen," Obama said.
Image: U.S. President Barack Obama and British Prime Minister David Cameron speak to mediapersons after their meeting at the White House in Washington on Tuesday     Photograph: Kevin Lamarque / Reuters