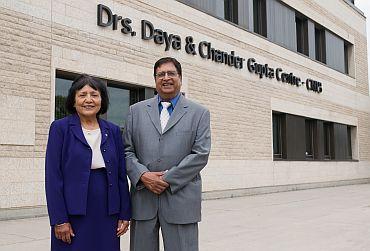 Drs Daya and Chander Gupta donated $1 million to the Canadian National Institute for the Blind in Manitoba earlier this month. The CNIB renamed the CNIB Winnipeg Building as The Drs Daya and Chander Gupta Center and organised a dinner in their honour on July 3.
"We were deeply honoured for the reception that the CNIB arranged," Daya said. "I have been an ophthalmologist for over 40 years and I am very impressed with how the CNIB works for the rehabilitation of partially sighted and blind people. They help them to the extent that even the totally blind can manage on their own. I talked to my wife, a gynecologist, and she supported my decision," Daya added.
Their donation has been earmarked for helping the approximately 36,000 people in Manitoba in Canada with vision problems. It will support the CNIB's low-vision program, which provides partially-sighted Manitobans with assistive technology and devices, helping them read and pursue education and careers.
A portion of the funds will also be used to provide annual scholarships to high school graduates looking at post-secondary education. 
The names of first two recipients of the $2,500 each scholarship were announced at the dinner reception: Rie Ueda and Karen Iwaszewski.
"It is a real honor and great help," said Iwaszewski, who will pursue her masters degree in public administration at the University of Manitoba this fall.
"The Guptas giving this scholarship is going to get me on track to pursue an accessible career in the next couple of years," Iwaszewski added.
The Guptas support many charities. They donated $650,000 for the Hindu Center Complex in Winnipeg, established the Dr Daya Gupta Visionary Scholarship at St John's Ravencourt School, and worked with Golf Manitoba to establish scholarships for young golfers with high scholastic achievements. "I don't charge a penny from any relation of my patients who are not covered by public health insurance," Daya said.
Text: Ajit Jain
Image: Drs Daya and Chander Gupta at the CNIB Centre in Manitoba