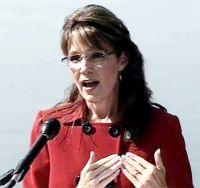 Former United States Vice Presidential candidate Sarah Palin has come out against a mosque and community center being planned near the "Ground Zero" in New York and asked "peace-seeking Muslims" to reject the plans.
"Twin Towers site is too raw. Peace-seeking Muslim, pls (please) understand, Ground Zero mosque is unnecessary provocation. Pls (please) reject it in interest of healing," she tweeted.
In May, a New York community board approved the building of a 13-story mosque and Islamic cultural centre close to the Ground Zero site whether the twin towers of the World Trade Center collapsed on 9/11, but the project still faces resistance from some groups in New York.
The mosque did not need the permission from the board, but the approval is symbolic of the majority of New Yorkers attitude towards the project.
The plan was pushed by a Kuwaiti-born imam, Feisal Abdul Rauf and will cost $ 100 million.
While some people opposed the move, New York City mayor Michael Bloomberg came out in a powerful defence for the Cordoba House to be built near Ground Zero.
"I think it's fair to say if somebody was going to try, on that piece of property, to build a church or a synagogue, nobody would be yelling and screaming," Bloomberg had said in May.
The Islamic center will have a swimming pool, basketball court, meeting rooms, a 500-seat auditorium, banquet facilities, theatrical programming, art exhibitions and cooking classes.
Image: Sarah Palin