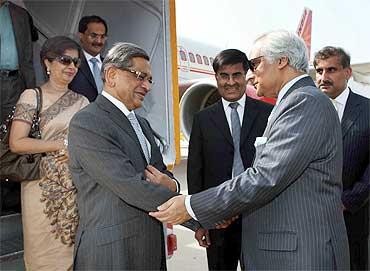 In a first trip by an External Affairs Minister to Pakistan since 26/11 terror attacks, S M Krishna on Wednesday arrived in Islamabad on a mission to restore trust and increase confidence in the relationship, bogged down by terrorism over which he will convey India's concerns.
Time has come for Pakistan to act when "irrefutable" evidence is given to it to act against terrorists targeting India, Krishna said at a press conference.
During his three-day visit, Krishna will hold talks with his Pakistani counterpart Shah Mahmood Qureshi tomorrow and will try to find areas of convergence between the two countries, besides focusing on Confidence Building Measures in the areas of people-to-people contact, exchange of prisoners and bilateral trade.
"We hope to discuss all issues of mutual interest and concern that can contribute to restoring trust and bringing confidence in our bilateral relationship," Krishna told reporters upon his arrival.
"I also look forward to receiving feedback on the issues raised by our Home Minister (P Chidambaram) during his visit to Pakistan last month on our core concern of terrorism, particularly in the light of the discussions our Home Minister had in Pakistan in the context of interrogation of David Headley regarding the Mumbai terrorist attack," he said.
Describing his visit as an important one, Krishna said he hoped it would usher in "a new journey in our efforts to build a peaceful, friendly and cooperative relationship between our two countries."
India is committed to resolving all issues with Pakistan through peaceful dialogue based on mutual trust and confidence, Krishna said.
"I am carrying with me a message of peace and friendship from the people of India and we hope to undertake this voyage of peace, however long and arduous, jointly with the government and people of Pakistan," he said.
India told Pakistan that "selective efforts" should not be used to deal with terrorism and termed as "untenable" any attempt to make a distinction between state and non-state actors involved in terror.
Ahead of his meeting with his Pakistani counterpart Krishna said the trial of seven accused in the Mumbai attacks case,
including LeT's operations chief Zakiur Rehman Lakhvi, was moving at a slow pace and India would like to see its
expeditious and successful conclusion.
He told PTI in an interview that Pakistan's contention of making a distinction between state and non-state actors
regarding terrorism was "untenable" as "it is common knowledge that terrorist groups and individuals have been provided
sanctuaries and safe havens" in this country. 
"Pakistan must realise that India harbours no ill-will against it and the cancer of terrorism needs to be rooted out
completely," Krishna said.
Image: External Affairs Minister SM Krishna greeted at the Chatkala airport by High Commissioner of Pakistan to India Shahid Malik. Foreign Secretary Nirupama Rao is also seen. 
Photograph: Jay Mandal/On Assignment.
© Copyright 2023 PTI. All rights reserved. Republication or redistribution of PTI content, including by framing or similar means, is expressly prohibited without the prior written consent.