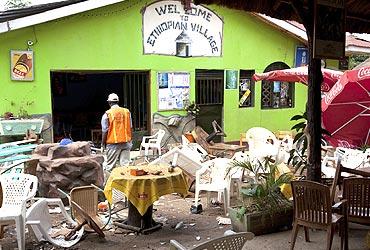 Sunday's devastating bomb blast in Ugandan capital Kampala, which killed over 70 persons, including an American aid worker, has worried the United States, as it fears that the attack marks the emergence of a local Islamic terror group on the world stage.
The Shabab group, which claimed the responsibility for the attack that tore through the festive crowds in Kampala, was until now active in Somalia, and experts pointed out that the synchronized nature of the attacks bore Al Qaeda's trademark.
US officials believe that the Shabab group received support from Al Qaeda or at least drew inspiration from it or its other associates running their terror business in East Africa.
The bombings have complicated things further for the Obama administration as it tries to sort out issues in Somalia by backing the power transition in the African state.
The White House has now more to worry about, as the region seems to have become a hive of Islamic militancy, The New York Times reports. 
"This was a localized cancer, but the cancer has metastasized into a regional crisis. It is a crisis that has bled across borders and is now infecting the international community," Assistant Secretary of State for African affairs Johnnie Carson said.
Experts also warned that Al Shabab has the ability to grow into an international threat. "Al Shabab is emerging as one of these archetypal 21st-century terrorist groups. Ten years ago, no one would ever have heard of them. These are not the kinds of groups that would have had the ability to operate across borders," said Bruce Hoffman, a counterterrorism expert at the Georgetown University.
Hoffman suggested that the Kampala attack might represent a bid by more ambitious members of the group to ally it more closely with Al Qaeda and its affiliates. 
Meanwhile, Washington has negated the views regarding the attack being aimed at Americans. "The United States stands shoulder to shoulder with Uganda in the fight against terrorism," said the State Department spokesman, Philip J Crowley.
US President Barack Obama and Secretary of State Hillary Clinton also condemned the attack.
Image: An investigator walks through the remains of an Ethiopian-themed restaurant that was hit by an explosion in Kampala
Photograph: Benedicta Desrus / Reuters