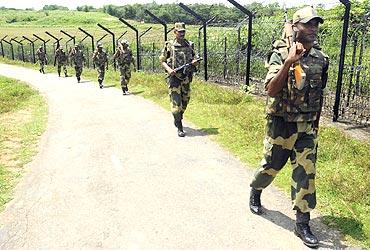 Pakistan's intelligence agency, the Inter Service Intelligence, has activated its sleeper cells in the north east to use the Indo-Bangladesh border route as a 'safe passage' to courier its men and materials into different parts of India. This was revealed by the arrested ISI agent, Momin Khan, to his interrogators in Tripura recently.
Momin was nabbed by the Tripura police from the capital Agartala last Sunday. Earlier, based on certain confidential tips, a special operation team successfully arrested six ISI collaborators from Indo-Bangla border subdivision Sonamura. During interrogations, they revealed that they were in Bangladesh recently where they had a detailed meeting with some ISI operatives.
They also admitted that one of the ISI agents, Momin Khan, was hiding in Agartala. On the basis of the interrogation report, police rushed to a residential area in Agartala and caught Momin red-handed with a SIM card and a mobile phone, passport, some letters and other 'incriminating' documents.
Momin belongs to Bhawalpur area of Punjab province in Pakistan. He has confessed that he is a trained member of the ISI. He was assigned with the task of visiting Assam and Delhi to collect information regarding army movement.
He flew to Dhaka from Karachi and later travelled by road  upto Comilla and crossed the border with the help of sleeper cell members. From Sonamura subdivision of West Tripura, he was put in a safe house in Agartala.
Momin also indicated that due to heavy deployment of army, Border Security Force and other paramilitary personnel along the western border with Pakistan, besides better fencing and manning of the border outposts, the ISI has found the north east border with Bangladesh, a 'safe corridor' to execute its anti-India projects. Bangladesh has a long nearly unfenced international border with Tripura, Assam, Mizoram and Meghalaya.
This border region is a known 'happy hunting ground' for the ISI as they were funding and imparting arms training to several anti-India insurgent outfits, since the 1960's. Surrendered underground leaders of the United Liberation Front of Asom admitted that they used to send their cadres to Pakistan for arms training.
But now the ISI has stared using the Indo-Bangla border as a 'safe passage' to post its men and materials. In the past, security forces in Tripura arrested Md Abdul Rehman of the Al Qaeda, Daud Merchant and Sangram Ali of Harkat-Ul-Jihad-Al-Islami; and all of them entered Tripura from the neighbouring Bangladesh.
In fact, only last month a court in Tripura had sentenced a Bangladeshi arms dealer Mamun Mian to 10 years rigorous imprisonment for entering into Tripura using forged identity documents.
Mamun had close link with HuJI. He was caught in March, 2008 from Tripura. HuJI in Bangladesh has close operational tie up with the Lashkar-e-Tayiba.
Image: Border Security Force personnel patrol a stretch of the India-Bangladesh at Khedabari, near Agartala | Photograph: Jayanta Dey / Reuters