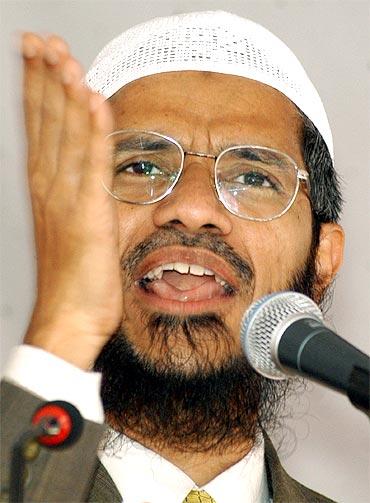 First, the Canadian High Commission in New Delhi cancelled his five-year multiple-entry visa preventing him from speaking at the country's largest Islamic gathering 'The Journey of Faith'.
But the organisers said Mumbai-based televangelist Dr. Zakir Naik (in the picture) would appear live via video conferencing before thousands of attendees during their three-day conference at the Metro Toronto Convention over the last week-end.
That too didn't happen. 
The reason, some say, was internal dissension and more pressure on the organisers from donors that Naik shouldn't be given a chance to once again attack the Western world, Jews and others.
A published report allegedly says in a 2007 video 'If (Osama bin Laden) is fighting the enemies of Islam, I am for him. If he is terrorising a terrorist, if he is terrorising America the terrorist, the biggest terrorist, I am with him. Every Muslim should be a terrorist."
Naik was earlier banned from entry to the United Kingdom.  Later organisers of the Islamic conference in Toronto announced that he would be one of the keynote speakers at their conference (July 2-4).
But after Naik's comments against the United States and Israel were publicised, Canadian Immigration officials took note of that and they didn't want controversial man to travel here. They cancelled the five-year visa that was issued to him last year.
So, they announced he would speak to the delegates via video on July 3. His lecture was announced as 'The Heart of the Journey' but reportedly two cancellations later, many delegates wondered why Naik's voice was silenced. And the final cancellation was announced only 15 minutes before he was to appear to talk to the delegates.
'He was asked not to talk, by who I cannot disclose," Conference Chair Imam Said Ragaeh is quoted in the Toronto Star as saying.
'But we wanted him to talk.  We wanted to hear from him'as Naik was to clear up misconceptions about his past statements."