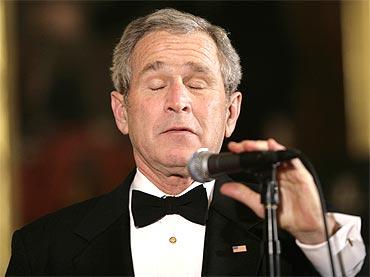 During his darkest hours, with his job performance approval rating hovering around 30 per cent, then United States President George W Bush frequently told his confidantes that that history would cast a forgiving light on his tenure as chief executive of the world's most powerful nation.
Judging by the results of the first survey of US historians taken since Bush left office, his optimism was misplaced.
For the fifth time since its inception in 1982, the Siena College Research Institute has released a survey of expert opinions on US presidents. And George W Bush, ranking 39th out of 44 presidents, is a new inclusion to the list's dreaded 'Bottom Five' of worst presidents ever. He scored particularly poorly with the 238 historians in 1) handling the economy, 2) communication, 3) ability to compromise, 4) foreign policy accomplishments and 5) intelligence. Bush had entered the survey at 23rd out of 43 when the study was last conducted in 2002, one year into his first term.
As in the first four surveys, Franklin D Roosevelt, who steered the US through the Great Depression and the beginning of World War II, emerged as the top all-time US chief executive. Nobel Peace Prize winner Theodore 'Teddy' Roosevelt, Civil War-era President Abraham Lincoln, first ever President George Washington and Declaration of Independence author and third president Thomas Jefferson comple the 'Top Five'.
Current president Barack Obama, who ranks high in imagination (6th), communication ability (7th) and intelligence (8th), enters the survey in the 15th position.
Joining Bush at the bottom of the list are the usual 'worst ever' candidates: Andrew Johnson, James Buchanan, Warren G. Harding, and Franklin Pierce. Buchanan and Pierce are reviled for failing to prevent the bloody US Civil War, which broke out in 1861, while Johnson is ranked 'worst ever' for his debilitating post-Civil War 'Southern Reconstruction' policies, which kept alive legally-sanctioned racial discrimination against African Americans, despite Lincoln's early efforts to end slavery in America's South. The feckless Warren Harding's tenure in the 1920s was crippled by personal woes and political missteps.
"Despite decades of new research on former presidents and the accomplishments or lack thereof of the current chief executives, scholars display amazingly consistent results," said Dr Douglas Lonnstrom, professor of statistics at Siena College and one of the study's directors.
Amazingly consistent results? Sounds like bad news for Dubya.
Image: US President George W Bush | Photograph: Yuri Gripas