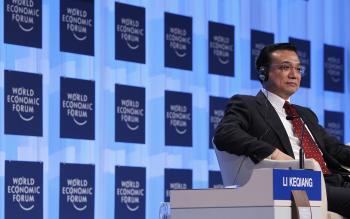 At Davos on Thursday, all eyes were on China's vice-premier Li Keqiang, tipped to become the next Chinese prime minister.
The speech at the World Economic Forum marked the highest-profile international appearance for Li, who is widely considered the heir apparent of Wen Jiabao. While he addressed issues ranging from domestic economic reforms to global governance, Li avoided sensitive topics like yuan's value and growing trade frictions between China and the US.
The mercurial Chinese leader told the forum that domestic demand is key for China's economic growth.
Reflecting international concerns, he said China had been excessively reliant on investment and export.
Li said that while China's economy faces a complex environment this year, its long-term upward trajectory remains in tact despite the recent global crisis.
Li Keqiang's acid test at Davos
Analysts believe his trip to Davos – where he addressed the forum-- was part of a strategy in the Communist party to raise his profile as reports about the leadership transfer were  increasing.
Given the lack of transparency in the Chinese Communist Party, the eventual outcome remains unclear though. That is why many believe the Davos speech would be an acid test for Li.      
Russell Leigh Moses, a Beijing-based political analyst, told Financial Times how Li handles himself in Davos would be part of the portfolio by which others in Beijing evaluate him.
"The succession is probably not yet a done deal," said Moses.
Li's mercurial rise
An economics graduate with a PhD in law, Li rose through the ranks of the party structure through the Communist Youth League. From 1998 to 2004, Li served as the Governor of Henan and the province's CPC party chief, and then the Liaoning party chief, an office that makes him first-in-charge in that province.
Will he replace Wen Jiabao? The answer lies with the Chinese Communist Party. 
Image: Li Keqiang at the Davos World Economic Forum on Thursday.
Photograph: Reuters