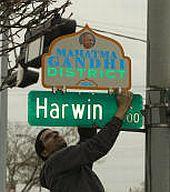 A part of southwest Houston, Texas, home to a large number of South Asians, including Indians, has been officially renamed Mahatma Gandhi district to honour the leader on his 141st birth year.
An ethnic conclave, Hillcroft was renamed this month, fulfilling the seven-year long demand of over 100,000 strong Indian-American population living in the Greater Houston area.

City Mayor Annise Parker announced the change of name along with Consul General of India in Houston, Sanjiv Arora.
Officials of the India Culture Centre has been working relentlessly for renaming the area that is popularly known as "Little India" due to the high concentration of south Asian shops and restaurants.
"Persistence alone paid off in the end as it was just getting no where, till the culture center and business leaders settled for adding the signs designating it a district, a $10,000 expense," ICC Spokesperson Manisha Mehta said.
Renaming the Hillcroft area required 75 per cent of commercial property owners on a street to sign a petition in its support, according to the municipal law. Only then the City Council can consider the change of the name.

But Indians earlier failed to gather required number of signs as it was difficult to agree the non-south Asians there.

The project was proposed during the tenure of former Mayor Bill White as the ICC and Indian merchants in the area wanted to rename Hillcroft Avenue to Mahatma Gandhi Avenue.
It was a moment of joy for the Indian-Americans in Houston as the change in name brings a feeling of recognition and they hope renaming the area would attract more tourists.
"We have so many Asian businesses in this area, it's a feeling of recognition," said a local Indian business owner, Usha, owner of prominent Gold Jewellery business Shop.

"It's a great feeling," said Bhogilal Ji of Keemat Grocers while watching the installation of 31 signs along one end of the street to another.