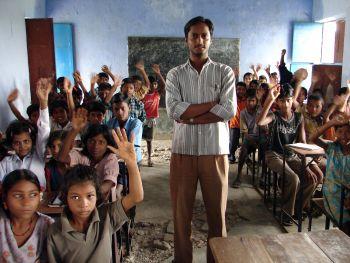 Pratham USA, which aims to educate India's underprivileged children through awareness programs about illiteracy, was awarded the 2010 Henry R Kravis Prize in Leadership last week.
The $250,000 (approximately Rs 1.1 crore) award celebrates extraordinary accomplishment and bold leadership in the nonprofit sector.
The prize will be presented to the organisation's representatives at ceremonies March 23 in New York City.
"Pratham's work is making a difference in the lives of millions of children," said Henry R Kravis.
"Their approach to improving educational quality is targeted, cost-effective, and sustainable. By collaborating closely with government and local communities, Pratham has shown tremendous results and improved millions of children's lives."
Atul Varadhachary, president, Pratham USA, told rediff.com's India Abroad: "I am excited by the award. We are very pleased by the recognition provided through this very prestigious award and the distinguished panel of judges, who independently and rigorously reviewed candidate organisations before choosing Pratham."
The prize is presented and administered by the Claremont McKenna College and Marie-Josée and Henry R Kravis. Mrs Kravis, an economist, is a senior fellow, Hudson Institute, while Henry Kravis, founding partner, Kohlberg Kravis Roberts & Co, is an alumnus and trustee of the Claremont McKenna College.
The Kravis Prize Selection Committee includes Nobel Laureate Amartya Sen and James D Wolfensohn, the former World Bank president.
Varadhachary said there are many organisations doing wonderful work for the underprivileged in India and every organisation is important.
"Pratham views its work as being part of a broader societal mission with involvement by all key stakeholders including the government, corporations, parents, and the broader community," he continued.
"The Read India program (Pratham's flagship program aimed at 6 to 14 year olds) which has reached over 34 million children so far in partnership with governments and local communities is an excellent example of this collaborative effort."
While the award is a non-restricted grant, the group hopes to use the funds to create a new program reflecting the spirit of the award, he said.
"Our confidence in Pratham is driven by the lives that we have helped transform -- a fact confirmed by many independent studies. The recognition that a prestigious award such as this brings is very important in that it helps us bring the Pratham story to so many other individuals who would like to be part of this transformative story and can contribute in so many different ways," he said.
Madhav Chavan, Pratham's co-founder and chief executive officer, will accept the award on behalf of the 16-year-old organisation.
Image: A Pratham volunteer teaches with his students in India