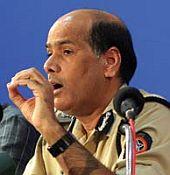 Senior IPS officer A N Roy, who was removed from the post of Maharashtra police chief following a Bombay High Court order, was on Friday reappointed Director General of Police.
"Orders to the effect have been issued," Additional Chief Secretary (Home) Chandra Iyengar told PTI.
The 1972 batch IPS officer was removed from the post in February last year after the court deemed his appointment as DGP in February 2008 as invalid.
Terming Roy's appointment as arbitrary, the court had asked Maharashtra government to appoint a new DGP within four weeks.
In February 2008, S S Virk (1970 IPS Batch), J D Virkar (1972 IPS Batch) and S Chakraborty (1972 IPS Batch) were the three most senior IPS officers in the state, with Roy coming after them.
Roy took over, as Virkar voluntarily withdrew his candidature. Chakraborty went to court on losing out and Virk was apparently sidelined.