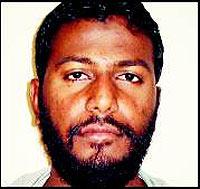 As the interrogation of self-styled Harkat-ul-Jihadi commander, progresses, the Hyderabad police have stumbled on vital clues regarding his sinister plans for South India. Khwaja, it is learnt, has told the police that his main target was Chennai and the purpose behind his visit to India was also to recruit more youth for terror operations.
Khwaja, being grilled by both the Intelligence Bureau and the Hyderabad police, is said to have confessed that he had recruited several youth in the past from both Andhra Pradesh and Karnataka and sent them to Bangladesh and Pakistan to train in terror operations. He also said that he had come down specifically to target Chennai from where he was picked up.
He said his key targets were the oil refineries in Chennai and Hyderabad and planned on undertaking the operation on Republic Day. He also told his interrogators that terror groups were planning to make an impact in Chennai since this city has been out of the radar for quite some time. He said that almost all important cities in India had been targeted and hence they wanted to plan something for Chennai.
Operations for Chennai were planned earlier, too, by the HuJI and the Lashkar-e-Tayiba, but they decided to withdraw plans at the last minute due to certain logistical hassles.
His interrogation also proves that he was in Chennai for over a couple of weeks since he also admitted to have surveyed these targets. He says that he had a surveyed three oil refineries in Chennai and Hyderabad several times.
He also confessed to have recruited for this operation. Khwaja says that he and his men had selected several youth for the Chennai operations. He confessed to the cops that he was in the process of finalizing the youth for this particular operations.
IB sources told rediff.com that during his interrogation, Khwaja made it clear that they had no plans of carrying out any other attack apart from the ones on the oil refineries. He felt that the attack of this nature would be unique and would create a lot of damage. At first they planned on targeting malls in Chennai, but decided against it since malls were already closely guarded.
Following the confessions, all oil refineries have been put on high alert and the IB says Khwaja's boys are still on the loose and may go ahead with the plans.
The Hyderabad police are now trying to find out about the rest of his accomplices. An officer in Hyderabad said that once they are through with their interrogation, they would permit the police of both Karnataka and Chennai interrogate this man who is also wanted in the attack on the Task Force suicide bombing in Hyderabad in 2005.