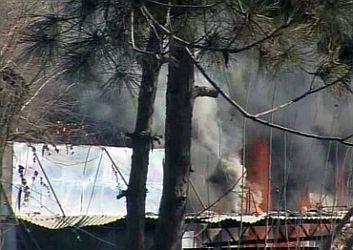 An intense gun battle is going on between Taliban militants and Afghan security forces near the presidential palace in Kabul.
According to unconfirmed reports, one security person has died in the attack while several others have been injured.
Those present at the scene heard a series of explosions close to government ministry buildings, followed by gunfire.
A statement on a Taliban website said 20 fighters, including suicide bombers, are involved in the attack -- specifically targetted at government buildings and Serena Hotel located in the area.
Meanwhile, NATO's International Security Assistance Force said it was 'working closely with Afghan partners to aggressively contain the situation during which several small explosions were reported near the Feroshgah-e-Afghan shopping centre and the Serena Hotel'.
Isaf said Afghan forces had reportedly killed at least two armed insurgents.
Streets in the centre of the city have been closed and hotels and government buildings have been locked down.
"It is a chaotic scene. We do not know what to do and where to go," BBC quoted one official trapped in a government building as saying.
The attack happened as some members of President Hamid Karzai's cabinet were being sworn in.
The attacks come ahead of Karzai's plans to announce a new plan aimed at forging peace with the Taliban and other militants, fighting to topple his administration.
Image: A video grab shows a scene outside a hotel where there was a gunfight in Kabul.