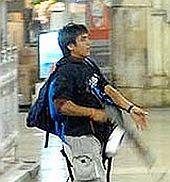 Continuing his flip-flop, Pakistani gunman Ajmal Kasab on Monday told a special court trying the 26/11 attacks case that all the four terrorists who stormed Taj hotel were Indians.
Kasab, whose statement is being recorded by the court on evidences adduced by the prosecution, told Special Judge M L Tahaliyani that while one of the terrorists of the Taj hotel siege was a Kashmiri, another was from Gujarat.
Kasab claimed the third terrorist at Taj was Abu Ismail was from Mumbai. According to the prosecution, the police gunned down Ismail at Girgaum Chowpatty in an encounter when he and Kasab were trying to escape. He, however, did not elaborate on the identity of the fourth terrorist at the Taj.
The Pakistani terrorist has been making conflicting statements in the court. While at one point Kasab confessed to his guilt and admitted having shot people at Chhatrapati Shivaji Terminus along with Abu Ismail before being captured at Girgaum Chowpatty, he later denied any involvement in the terror strikes.