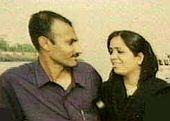 Maintaining that the Supreme Court order of a probe by the Central Bureau of Investigation into the Sohrabuddin fake encounter case was not a setback, the Gujarat government on Tuesday said it will take "appropriate" action after studying the ruling.
"We are yet to receive copy of the Supreme Court order, but we will take appropriate action after studying the order," Health Minister and government spokesperson Jaynarayan Vyas said.
"The court has not given its final judgment in the encounter case. In Tuesday's order, the court has asked the CBI to investigate the case," Vyas said.
Asked why the government insisted on the state police continuing probe into the over four year-old case in which three IPS officers have been named accused, he said it was a "natural" stand to take.
"Any state would naturally insist on a state agency to investigate the case. Insistence of the Gujarat government on state agency for investigation does not mean that the state government had something to hide or to be worried about."
Investigation is a process of law and let it be completed by a Central agency, Vyas said while ruling out resignation of Minister of State for Home Amit Shah.
"Why should he resign? There is no question of anybody's resignation just because the Supreme Court has ordered CBI probe into the encounter case," he said.
Meanwhile, Leader of Opposition and Congress member Shaktisinh Gohil welcomed the Supreme Court's order and said the state's BJP government had been playing politics of vote in encounter cases.
"The Gujarat government's criminal involvement in the Sohrabuddin case has been exposed and therefore the court has ordered CBI inquiry into the case," Gohil said.
"Many innocent persons were bumped off by the state police under the Modi government," he alleged, adding that those encounters were carried out to achieve ulterior designs.
However, government sources maintained that the handing over the investigation of the fake encounter case and subsequent alleged killing of Soharabuddin's wife Kausar Bi to the central agency has come as a setback to the Gujarat government, which had been staunchly maintaining that the state police were conducting the inquiry in an impartial manner.
Meanwhile, Soharabuddin's brother Rubabuddin Sheikh welcomed the Supreme Court's decision.
"We have been asking the Supreme Court for a long time to hand over the case to CBI. Now with this decision, I think I will be able to get proper justice for my brother who was killed in a fake encounter," Rubabuddin said.
Suspended DIG D G Vanjara and SP R K Pandiyan (both Gujarat cadre IPS officers) besides Dinesh M N (Rajasthan IPS officer), arrested by the State CID (Crime) in 2007, are currently behind bars in the case.