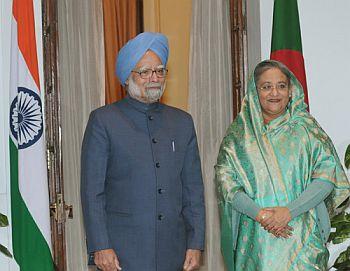 Bangladesh on Monday promised not to allow its territory to be used for terror against India as they signed three agreements to jointly combat the menace while India announced a one-billion dollar line of credit to that country.
The significant Line of Credit offered by Prime Minister Manmohan Singh during talks with his Bangladesh counterpart Sheikh Hasina marked the highest one-time grant by India to any country.
India decided to give 250MW of power to Bangladesh from the central grid while they signed a power-sharing agreement.

New Delhi sought to address Dhaka's concerns with regard to non-tariff barriers by agreeing to remove these on more items and assured that India will not take any step on Meghalaya-based Tapaimukh dam which would hurt Bangladesh's interests.
At the wide-ranging talks in New Delhi between Dr Singh and Hasina, the two sides reached a number of decisions to revive the traditional links of connectivity, which included Akhaura-Agartala railway line.
The discussions covered the entire gamut of bilateral ties, with particular focus on terrorism, security, connectivity, trade and investment, border-related issues and sharing of water and power resources.

During the discussions, Hasina told Dr Singh that her government will not allow Bangladesh to be used for terrorism directed at India, an assurance aimed at addressing a major concern in New Delhi about North East insurgents taking shelter there.

The two leaders discussed ways in which the countries could cooperate in checking the menace of terrorism.

After the talks, the two sides signed an Agreement on Mutual Legal Assistance in Criminal Matters, an Agreement on Transfer of Sentenced Persons and an Agreement on Combating International Terrorism, Organised Crime and Illicit Drug Trafficking.
Dr Singh and Hasina noted that terrorism and extremism respect no boundaries and agreed on the need for cooperation between the two countries.
They expressed their commitment to solve all their issues through discussions and decided to put in place a Comprehensive Framework for Cooperation in Development.
The Line of Credit has been extended for infrastructure development of Bangladesh, including construction of railway lines and bridges and manufacture of coaches.
Dr Singh told Hasina that India attaches "highest priority" to it ties with Bangladesh and wants to be a partner in its development.
He said the visit was an opportunity for laying foundation for "forward-looking" relationship. India also agreed to give transit facility to Nepal and Bhutan to Mongla and Chittagong ports. The Rohapur-Singabad transit corridor will also be revived to give access to Nepal.
It was agreed that Ashuganj in Bangladesh and Silghat in India would be port of calls for transportation of over dimensional cargo for a power plant in Tripura.
Later, speaking at the banquet hosted for Hasina, Dr Singh said India was ready to "pursue a bold vision" for its ties with Bangladesh, based on mutual respect and mutual benefit.
Contending that India seeks to build "a new future" with Bangladesh, Dr Singh said, "The time has come to chart a new path. Our two peoples want peace, security and prosperity... Your visit will open a new chapter in our relations."
Dr Singh said India "stands ready to be a full and equal partner in the realisation of your vision of social change and economic development for Bangladesh."
In turn, Hasina said: "Bangladesh shall not allow its territory to be used for launching terrorist activities against any country in the neighbourhood or around the world", seeking to address India's concerns with regard to North East insurgents taking shelter in her country.
Noting that "serious collaboration" was essential for countering terrorism to ensure sustained peace in the region, she said: "I can give you this assurance that Bangladesh is committed to eliminating all forms of terrorism from within its territory."
She pressed for conclusion of agreements on water sharing of Teesta river and other common rivers in the spirit of 1996 Ganges Water Treaty. On this "very important issue", she sought Dr Singh's support.
The two leaders decided to call the ministerial-level meeting under the format of Joint Commission.
Hasina, who came to power in January last and is on her first visit in New Delhi since then, said with democratic governments in place in both the countries, relations would "no doubt reach a new height".
She hailed the assurance given by Dr Singh that India would give duty-free access to more Bangladeshi items and remove non-tariff barriers besides improving trade infrastructure on Indian side of the borders.
India and Bangladesh also decided to reactivate the Sabrum-Ramgarh and Taparmukh land borders.
The Akhaura-Agartala railway line will be built by India as a grant.
For working out modalities on implementation of the power-sharing MoU, Power Secretaries of the two countries will meet in New Delhi on Tuesday.
India also decided to give 300 scholarships annually to students from Bangladesh.
Hasina said the agreements signed and decisions taken at their talks were "very significant achievements", which would have favourable impact on people of the two countries.
"What now is required is activation of institutional mechanisms for promoting the two-way trade, removal of avoidable hindrances, initiation of long-pending trade facilitation measures, easy travel of businessmen and creation of mechanisms to settle disputes that may arise from differences on specific trade related issues," Hasina said.
She invited Dr Singh to undertake a visit to Bangladesh at the earliest possible occasion.
Hasina, whose official three-day visit began on Monday, met President Pratibha Patil, Finance Minister Pranab Mukherjee, External Affairs Minister S M Krishna, UPA Chairperson Sonia Gandhi and Leader of the Opposition in the Lok Sabha Sushma Swaraj before holding wide-ranging talks with Dr Singh.
Image: Prime Minister Manmohan Singh with Bangladesh Prime Minister Sheikh Hasina in New Delhi
Photograph: PIB