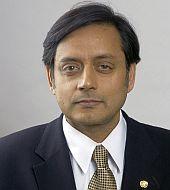 An angry Minister of State for External Affairs Shashi Tharoor on Sunday hit out at the media claiming that they had misreported his remarks on Jawaharlal Nehru and demanded that they issue a correction.

A day after his reported remarks at an academic seminar on international relations created a flutter in the Congress, Tharoor called a press conference in his office and said he was dismayed at the "inaccurate and tendentious reporting".
He said that as chairman of the seminar organised by the Indian Council of World Affairs, he had only made an honest summary of London School of Economics professor Lord Bhikhu Parekh's hour-long speech on "India's Place in the World".
He also noted that Parkeh had suggested that India export its values and systems to the world.
Tharoor said that in his intervention, he had "very gently and politely disagreed with Lord Parekh".
Asked whether Prime Minister Manmohan Singh had spoken to him following the media reports, he refused to divulge as to who had talked to him.
"Yes, I have spoken to a number of people who are disturbed about this type of press reporting. There are some press reports that are less tendentious. But as far as I am concerned this is my view of the matter and I have shared this view with those I have spoken to," Tharoor said.
He said that it was against his principle to divulge any privileged communication.
On whether External Affairs Minister S M Krishna had ticked him off on his comments on changes in visa rules, Tharoor said, "I know what the minister told me and do not go by news reports of what he was supposed to have told me."

When asked if he had become an embarrassment to the Congress, Tharoor shot back saying, "I am not going to take this nonsense anymore."
"If you are continuing to misreport everything I say… clearly, people are going to judge me not by what I have actually said but by what you all are reporting what I have said," Tharoor said.
Asked whether the Congress spokespersons should have checked with him before commenting on his reported remarks, he said, "I think you should ask the Congress spokespersons whether they should have verified before commenting."
"You all in the press go and thrust information on the spokespeople and assure them that this is what I said, naturally they will react. We all like to trust the media… I am truly shocked... none of the good works of the ministry gets reported but a five-minute summary of a seminar gets all the space."
On whether he had clarified the matter to Congress President Sonia Gandhi and Prime Minister Singh, Tharoor merely said: "All I can tell you is… You are all the ones who have misreported. You are all the ones who owe it to the country to report these things correctly."
Asked why he had not issued a rejoinder on Saturday, Tharoor said he had not taken the matter seriously as only one newspaper had reported it.
"Only one newspaper had reported and I did not take it seriously. Very bluntly, it is now that you have made a big song and dance about it I am not only issuing a statement but also issuing a rebuttal and demanding a correction, because we cannot go on like this," he said.
Asked whether he should have been more careful while speaking, Tharoor replied: "I am trying to do my job. I am not trying to think what people are concerned about what would give them headlines. Let me be very honest. This is a seminar. Normally this does not even get reported… It was a serious discussion and there are a certain sets of assumptions. People know that we are not talking to people who are pulling out one sentence out of context. This is a serious discussion of people who understand foreign policy issues."
Tharoor said he regretted the fact that there were people in the audience, who clearly did not have the background, the reading, the depth, the knowledge, the judgment to know what was being said.
"That is a great shame. The problem is that journalists must learn but they must not learn at the expense of the country's and the ministry's credibility," Tharoor said.
"You have to ask yourselves… don't you all have the self-respect to want to be truly professional," he asked.
In a statement, Tharoor said Parekh's speech was a largely positive analysis of the major trends in Indian foreign policy.
"While he (Parekh) expressed some criticisms of past policies, these were not inappropriate in an academic setting dedicated to free discussion of global issues, and in any case, were expressed in constructive terms," the minister said.
Tharoor said in his remarks at the conclusion of the event he had summarised Parekh's main points and stated: "That Indian foreign policy drew from our sense of civilisation, and the extraordinary contribution by Mahatma Gandhi and Nehruji's articulation of our civilisational heritage, both enhanced India's standing in the world but also earned us the negative reputation of running a moralistic commentary on world affairs -- that has come through very clearly in your speech.
"I went on to point out that there was more to Nehruvian policies than that, alluding to the use of force in Goa as an example of realpolitik in Indian policy."
Tharoor made it clear that at no stage he had said what a section of the media had reported within quotation marks. "It is a basic tenet of good journalism that any quotations within quotation marks should be the exact words spoken. This was manifestly not the case," he said.
Noting that some news reports had attributed Parekh's views to him, Tharoor said: "This is not merely unprofessional, it is dishonest. I demand a correction".
"Some TV channels have even run stories on the basis of inaccurate press reporting, without even checking the tape of my remarks. That reflects very poorly on their professionalism or lack thereof," he said.
"There were other media outlets present which had the integrity not to report a distorted version of my remarks, and I applaud those news channels and newspapers that saw the remarks in context," Tharoor added.