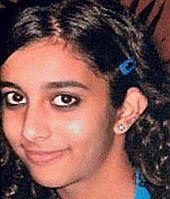 The Central Bureau of Investigation is collecting DNA samples of all persons associated with the postmortem of teenager Aarushi Talwar, whose murder had hogged national focus, to find the identity of the woman whose vaginal swab was sent to CBI for forensic tests.
The CBI team probing Aarushi-Hemraj double murder case, which has been working overtime in re-working the missing links of the case, decided to collect the DNA samples of doctors and technical staff of the hospital where the postmortem was done, sources said.
The decision to do this was taken after it came to light that the vaginal swabs drawn from the victim were substituted with those of an unidentified woman. This was found during the tests conducted by the Centre for DNA Fingerprinting and Diagnostics in Hyderabad.
Aarushi's parents Rajesh Talwar and Nupur Talwar, who are to be subjected to narco analysis test following a court direction, may also be questioned in connection with the bungling in sending the vaginal swabs of Aarushi, the sources said, adding the samples collected would be matched with the vaginal swab.
There was no semen (as alleged initially) in the slides sent to the Centre and corroborative testing found that the material was not drawn from Aarushi.

Dr Sunil Dohere, an Okhla-based doctor, had drawn vaginal swabs following Aarushi's murder on May 15, 2008, at her residence in Noida. The doctor had reported that the swabs contained a white discharge, suggestive of seminal fluid. But Dr Dohere's senior, Dr S C Singhal, later said the slides prepared from the swabs had tested negative for semen.
The murder case had made headlines when Aarushi's father Rajesh Talwar, a dentist, was arrested in connection with the murder of the girl.
The CBI arrested three servants of the locality and had given a clean chit to Dr Talwar but could not file any chargesheet within the stipulated time frame, after which they were released on bail.
After nearly two years of probe, Rajesh Talwar and his wife Nupur will undergo a narco-analysis test in connection with the double murder case.
The new CBI team had requested for a narco-analysis of parents of the victim.
Special Judicial Magistrate Preeti Singh granted the permission but asked CBI to seek medical clearance for Dr Rajesh Talwar, an asthma patient, before the test.
Rajesh was arrested on May 23, 2008, by Noida Police in connection with the murder of Aarushi, a class IX student of Delhi Public School, Noida, and her domestic help Hemraj. The case was transferred to CBI in July.