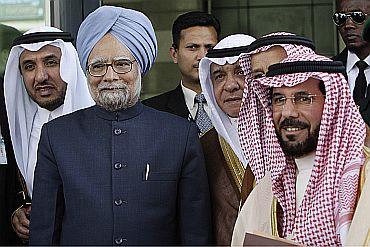 Giving a new dynamism to bilateral ties, Prime Minister Manmohan Singh on Sunday said India sees Saudi Arabia as a strategic partner for promoting peace, stability and economic development and that the conditions were ripe for the two countries to enter into a comprehensive energy partnership.
Addressing the influential Council of Saudi Chambers of Commerce and Industry, Singh invited entrepreneurs from the oil-rich Kingdom to explore investment opportunities in India in construction, manufacturing, pharmaceuticals, health, agriculture, energy, telecommunications, tourism and other sectors.
Saudi ministers for oil and mineral resources, commerce and industry and foreign affairs called on Singh during his day's hectic schedule.
The two sides finalised an extradition treaty and 10 other memorandums of understanding and agreements to further bolster bilateral cooperation.
"We deeply value Saudi Arabia's role as a reliable partner in meeting our energy needs. We believe that conditions are ripe for moving beyond a traditional buyer-seller relationship to a comprehensive energy partnership," he said.
"India sees Saudi Arabia as a strategic partner for promoting peace, stability and economic development. Such a partnership will bring benefits not only to our two countries but to the region we both belong to, and to the world at large," the PM said.
The Saudi industry captains said India should grant multi-entry visa to ease movement of businessmen and clear hurdles in investment funds. They said there was tremendous scope for cooperation in the oil, power and IT sectors.
Singh said Indian companies are well-equipped to participate in upstream and downstream oil and gas sector projects in Saudi Arabia. "We should also establish new partnerships in the area of new and renewable energy through sharing of clean technologies and joint collaborations," he said.
Saudi Arabia is India's fourth largest trading partner with two-way commerce being to the tune of about $ 25 billion.
Energy cooperation between the two countries has witnessed a massive increase since King Abdullah's Delhi visit in 2006, with Saudi exports jumping from $ 500 million that year to $ 23 billion in 2008, surpassing Iran as the largest supplier of crude oil to India.
Singh said India views its economic cooperation with Saudi Arabia in the wider context of its interactions with the entire Gulf region with which the country shares deep and historical ties.
"The Gulf countries are our natural partners in every sense of the term. Indians are the largest expatriate community in every country of the Gulf Cooperation Council. Our businesses should work together across the region, develop cross-country linkages and leverage economies of scale," he said.
Image: Prime Minister Manmohan Singh poses with Saudi business leaders in Riyadh on Sunday | Photograph: Fahad Shadeed  / Reuters