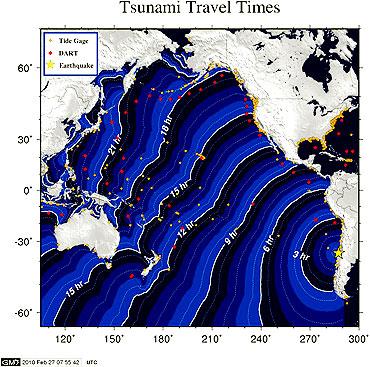 A massive earthquake rattled Chile early Saturday, killing at least 70 people, producing powerful aftershocks and triggering a tsunami, emerging reports indicate.
Some reports also say many Asian countries like Japan have issued a tsunami alert after the quake.  
A tsunami warning has been extended across the Pacific Rim, including most of Central and South America and as far as Australia and Antarctica. The wave has already caused serious damage to the sparsely populated Juan Fernandez islands, off the Santiago coast, reports said.
The 8.8-magnitude quake, the country's largest in 25 years, shook the capital Santiago, leading to massive destruction, reports added. 
Image: An image generated by the National Oceanic and Atmospheric Administration (NOAA) West Coast and Alaska Tsunami Warning Center shows the projected tsunami travel times following a 8.8-magnitude earthquake that rocked Chile.