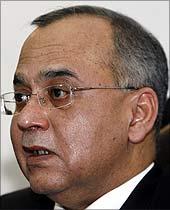 Having earlier talked about giving a blank cheque to China on its behalf for talking to India, Pakistan on Friday said that New Delhi and Islamabad -- being responsible countries -- could manage their relations on their own.

Talking to Asian News International at Raja Sansi Airport in Amritsar, Pakistan Foreign Secretary Salman Bashir expressed hope that the talks with India will progress further and that both the two nations should move ahead to establish peace in the region.

Speaking about the Thursday's foreign secretary-level talks, Bashir said: "We want to move to the actual talks and not just keep talking about talks. We should not be losing time. Let's not be diverted or get detracted. Let's get back on the highway to peace."

"I think Pakistan and India are both responsible countries with mature people. We can manage our relations," he added

Asked if it was true that Thursday's talks were futile as some people view it that way, Bashir said: "I don't think so. The talks were useful and fruitful in every respect. The whole idea was that we should be able to understand each other better and I think we made good progress in that regard."

On being asked on whether Islamabad was delaying or was reluctant to break the terror network in that country, Bashir said: "I think you got to update. What we are doing here, nobody has ever done in combating terrorism. We are doing it for our own sake and we will continue to make every endeavour."

Taking about Jamaat-ud-Dawah chief Hafiz Saeed, Bashir said: "There are many people on this side of the border who make irresponsible and highly inflammatory speeches, and it is better not to divert to trivialities and focus on improving our relationship."

Mentioning about the steps taken in the case of beheading of Sikhs in the country's tribal area, Bashir said: "We have condemned this. This is unforgivable. We will do our very best. We will try to get whosoever is behind this and do justice. This is the situation that we have been facing. The Sikh community and other communities in Pakistan are equally important. It was terrible and we are very sorry for this."