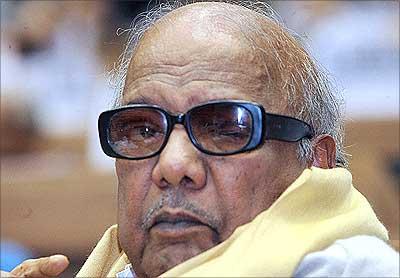 Seeking the Centre's "hand of friendship" in solving inter-state water disputes, Dravida Munnetra Kazhagam chief and Tamil Nadu Chief Minister M Karunanidhi has said his party's alliance with the Congress was for national integrity and harmony.
"The Centre should extend to us a hand of friendship considering our situation (in the Mullaperiyar). We are asking the hand not just for elections or solving inter-state water disputes like Mullaperiyar (with Kerala) and Cauvery (with Karnataka) but for national integrity and harmony," he said in his address at the DMK's general council.
The DMK headquarters has released excerpts of Karunanidhi's address to the council, where he said the Centre and other states must realise that the "handshake" with Centre was being asked in the interest of the nation. "I hope they realise."
In his interaction with reporters after the general council meeting, Karunanidhi had sought Centre's intervention in inter-state water disputes in order to maintain national integrity and sovereignty.
Even on Mullaperiyar issue, the state was resorting to legal recourse to uphold its rights and therefore "we are not enemies of the country's sovereignty and integrity," he told the general council.
He said a day will come when those opposed to the welfare of Tamil Nadu will be exposed. 
Charging Kerala with conspiring to push the farmers of the state into poverty and people into starvation, Karunanidhi said DMK's opposition to participate in the Supreme Court-constituted committee was against this "conspiracy".
Asking his partymen to take out this message to the people across the state, he, however, cautioned against any attack on people of Kerala or their interests in the process.
Chiding Kerala for amending a legislation aimed at bypassing the February 2006 Supreme Court order allowing Tamil Nadu to increase the water storage level at Mullaperiar from 136 to 142 ft, Karunanidhi said Tamil Nadu went through the
legal route when its neighbour moved the apex court against it.
However, the court did not rule either in favour or against the legislation (so far), he said, adding "we are not against the court."
On the Sethusamudram issue, entangled in a legal battle with those opposed to the demolition of Ram Sethu, he said the Centre was being "intimidated" in the name of Lord Ram. While the DMK understood the Centre's predicament, it would not hesitate to raise its voice if the situation warranted, he said.
© Copyright 2020 PTI. All rights reserved. Republication or redistribution of PTI content, including by framing or similar means, is expressly prohibited without the prior written consent.