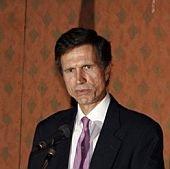 United States President Barack Obama is "most likely" to visit India, which he considers an "indispensable" partner of the US, later this year, a top official of the administration has said.
India is on top of the agenda of the Obama administration, which is reflected in the very fact that the President invited Prime Minister Manmohan Singh for his presidency's first State Visit in November last year, Assistant Secretary of State for South and Central Asia, Robert Blake, said.
"President Obama has further underscored the importance of India to the United States by promising to make a reciprocal visit to India, most likely later this year," Blake said, addressing the Chicago Council on Global Affairs on Friday.
However, he did not announce any dates for the visit.
Blake reminded the audience that the US President considers India an indispensable partner of the US. "Few relationships around the world matter more to our collective future, or hold greater promise for constructive action on the challenges that matter most to all of us, than the partnership between the United States and India."
"That doesn't mean that we will always agree, because we won't. But together we can build on the solid foundation that already exists, an even stronger partnership that serves not only the interests of our two countries, but of the rest of the international community," he said.
"The United States and India share common ideals and complementary strengths reflected in our very close people-to-people contacts, our shared embrace of democratic principles and our willingness to work together on issues that matter not only to us, but to the global community," Blake said.
Noting that India, Pakistan and the US all face the common threat of terrorism, Blake said: "While we would like to see India and Pakistan reach a stable relationship, they will do so on their terms at the appropriate time."
At the same time, India has become a valuable, in fact, a top five contributor to Afghanistan's reconstruction, he said.

Blake appreciated New Delhi's valuable assistance to the war-torn country's reconstruction, both in infrastructure, such as construction of the Parliament building and highways, and humanitarian fields like food aid to two million school children.
India has pledged over $1.2 billion in assistance, Blake noted.