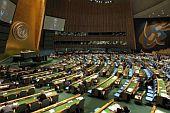 India's candidacy for a non-permanent seat in the Security Council has been endorsed by all 53-member states of the Asian group in the UN General Assembly.
Nineteen countries, including Nepal, Sri Lanka, Afghanistan and Bangladesh, spoke in favour of giving India a slot on the Security Council table from January next year at a meeting in New York.
Last month, India's path to a non-permanent seat got clear after its sole competitor from Asia, Kazakhstan, backed out of the race. The Indian candidacy already enjoys extensive support among the member-states of the United Nations outside the Asia group as well, according to Indian diplomats.
The Security Council is made up of 15 states -- five permanent members who have the Veto power and 15 non-permanent members elected for a two-year term. To win, India needs two-thirds of the General Assembly vote, which adds up to about 128 counties saying yes to India's presence in the Council.
Even before Kazakhstan dropped out diplomats in New Delhi say 122 votes were in India's favour but now that it is the sole runner from Asia, more votes are expected.
Running after more than a decade, India has orchestrated a year-long campaign led by India's envoy to the UN, Hardeep Singh Puri, who has campaigned locally here in New York and at multilateral events at the United Nations.
The last time India had a seat at the Council was in 1992.
In 1996, Japan won with India trailing behind with approximately 40 votes.
Last year, the General Assembly elected Bosnia and Herzegovina, Brazil, Gabon, Lebanon and Nigeria to serve as non-permanent members of the Security Council for two-year terms starting January 2010.
But the non-permanent seat for India isn't confirmed yet and a late entry, in the coming months, can also split the vote. The voting for the term starting in 2011 will happen in October this year.

Meanwhile, Africa group endorsed the candidacy of South Africa.
At the same time, India continues to push for comprehensive Security Council reform including expansion of both the permanent and non-permanent category.