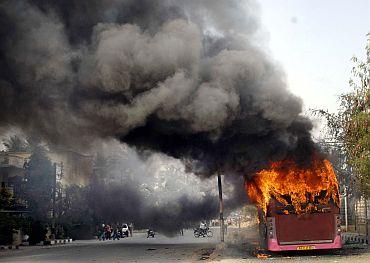 Tension spread in Osmania University campus and several other parts of Hyderabad city over the self immolation by a pro Telangana student Yadaiah.
In view of worsening of his condition, Yadaiah was shifted from Gandhi hospital to the DRDO Apollo Hospital, which has special burns ward.
Yadaiah has left behind a suicide note as well as stack of photographs of himself with many leaders including the state home minister Sabita Indra Reddy, Telugu Desam Party President N Chandrababu Naidu and Praja Rajyam Party president Chiranjeevi.
In his suicide note, Yadaiah wrote that he decided to end his life as he was not too hopeful of Telangana becoming a separate state. "I don't see any other way," he wrote.
Yadaiah was an orphan who was working part-time in a hotel to support his studies.
Angered over the incident, students clashed with the police at many places, including the main gate of the Osmania University where they pulled down the police barricade and pushed back the police forces.
An infuriated group of protestors set three buses, including a private tourist bust, on fire and buses were completely gutted as fire engines could not reach on time.
 Student's Joint Action Committee has also given a call to the people to block the roads linking Telangana to Andhra and Rayalseema regions. They also announced that from Sunday they will start laying siege to the houses of all the legislators of the region who have not resigned.
Image: Pro-Telangana students torch a bus near Osmania campus in Hyderabad on Saturday
Text: Mohammed Siddique in Hyderabad | Photograph: SnapsIndia