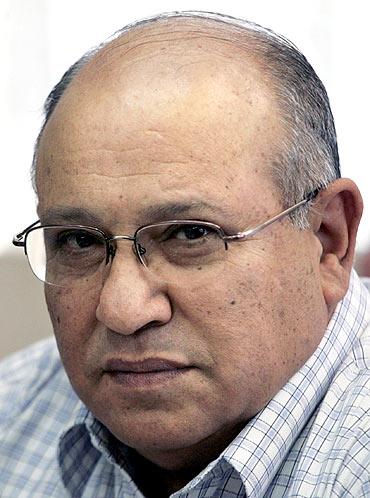 Meir Dagan, the head of the Israeli spy agency, Mossad, is under intense criticism and pressure to resign over the murder of a top Hamas operative in Dubai after five Israeli men said their identities were stolen by the assassins, believed to be agents of the infamous secret service.
The killing of top Hamas militant Mahmud al-Mabhouh during a trip to Dubai in January has widely been blamed on the Mossad, although Israel has not claimed responsibility for the murder. Dubai police this week released the photos of a 11-member hit squad carrying European passports which was responsible for the killing,but suspicion on the Mossad, Israel's intelligence service, deepened after some passports turned out to be fake.
All the five Israelis, who hold dual citizenships, were stunned to find their names on passports that police in Dubai said were used by the assailants, and have denied involvement in the affair. However, the people in the photos released did not look like them."I am in shock - I just don't understand how something like this could happen," Paul John Keeley, a British-born repairman who lives on Kibbutz Nahsholim near the northern town of Zichron Yaakov, told daily Ha'aretz.
Keeley's name appeared on the British passport which Dubai authorities said belonged to one of the hit men. "From the moment I heard about it I am very worried. I am worried for my family," said Keeley, who immigrated to Israel more than a decade ago. "The fact that it was my name that was published in this context makes me worry that someone will try to harm us," he added.
Keeley, 43 and a father of three, said that his passport was in his possession before, on and after January 20, the day Mabhouh was assassinated. "I don't know who a person calls when his identity is stolen," he said adding, "I'm waiting for someone from the British or Israeli government to contact me and give me answers. I don't understand how something like this could happen."
Dubai authorities said that eleven European-passport holders were behind the assassination, releasing their names and photos on Monday. The list included six people with British passports, three with Irish passports, and one each from France and Germany.
"I was in total shock. I don't know what's happening. I don't know how they got to me or my information. I haven't left the country in about two years, and I've never been to Dubai. I don't know who was behind this. It's just scary, because powerful forces are involved in this," Stephen Daniel Hodes, another British-Israeli whose personal data reportedly appeared in one of the assassins' passports, told Channel 2 television network.
Melvyn Adam Mildiner, another immigrant from Britain whose name was listed, said he was "angry, upset and scared." Michael Bodenheimer, who immigrated to Israel from the United States more than 20 years ago, was "astounded to see that the UAE list contained his name, supposedly belonging to a German citizen".
Michael Lawrence Barney, one of the other 11 names cited, told Channel 10 that "it is a mistake and it's identity theft, but it's not me, that's for sure." A commentator in Ha'aretz called for Dagan to be sacked questioning Prime Minister Benjamin Netanyahu's decision to hastily extend his term for an eighth year which he felt was "unnecessary".
If the perpetrators were from the Mossad (according to foreign media reports), Netanyahu must be walking around with an acute sense of deja vu, the report said.An agency like Mossad cannot "hinge upon one man without whom it would collapse", the commentator said warning of an impending diplomatic crisis with European countries, in case an Israeli connection is established with the incident, whose fake passports were used in the assassination.
"Even if whoever carried out the assassination does reach some kind of an arrangement with the infuriated Western nations, it still has an obligation to its own citizens," the columnist argued. Meanwhile, Ireland's Department of Foreign Affairs yesterday said that the three Irish passport-holders accused of taking part in the assassination do not exist.
Image: Meir Dagan, head of Israel's spy agency Mossad.
Photograph: Yonathan Weitzman/Reuters