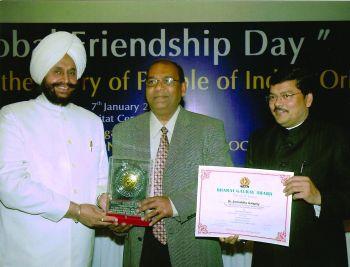 Dr Aniruddha Ganguly, who is on the faculty at the Harvard Medical School & Massachusetts General Hospital, Boston, was honored with the Bharat Gaurav award and given a certificate of excellence by the India International Friendship Society in New Delhi.
The award was presented during a conference on 'Global Participation in India's Economic Development' at the India Habitat Center, New Delhi, to acknowledge personalities who had glorified India with outstanding contributions in their area of specialisation.
Ganguly was awarded for contributions in advancing knowledge on mechanisms of cancer development and metastases, excellence in teaching, remarkable role in promoting global friendship, and outstanding contributions in community services. He is the founder and past president of the American Association of Indian Scientists in Cancer Research, Inc, and serves on the international advisory committee of Indian Association for Cancer Research. He is also director of the Massachusetts Lions Eye Research Fund, Inc.
Some past recipients of the Bharat Gaurav award are Nobel Laureate Mother Teresa; Harinder S Takhar, a minister in Canada's Ontario province; Amir Raj Banshi, sports minister in South Africa; Dr Sampat Shivangi, US-based physician; cricket legend Sunil Gavaskar; movie legend Dev Anand among others.
Image: Dr Aniruddha Ganguly (centre) receiving the award