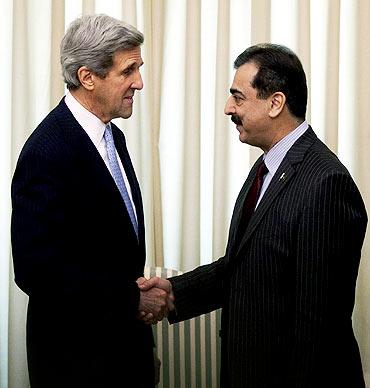 Pakistan Prime Minister Yousuf Raza Gilani on Tuesday offered to enhance cooperation with India in the field of intelligence to avert attacks like the Pune blast that could 'further the agenda of terrorists' who were holding the bilateral ties 'hostage.'
Gilani made the remarks during a meeting with visiting United States Senator John Kerry, the chairman of the powerful Senate Foreign Relations Committee.
He also expressed Pakistan's 'strong commitment to resolve all core issues between the two countries through peaceful means and composite dialogue.'
"The Prime Minister of Pakistan condoled the loss of lives in the recent terrorist incident in Pune and expressed his government's readiness to enhance cooperation in intelligence fields with India to ward the possibility of any such untoward incident which could only further the agenda of terrorists," said a statement issued by the Prime Minister's House.
The February 13 blast in a Pune bakery, the first major terror strike in India since the 2008 Mumbai attacks, had left 10 people dead and 57 injured.
"Pakistan had made progress in bringing the perpetrators of the Mumbai incident to justice and was determined not to allow use of its soil for any terrorist activity against any of its neighbours," Gilani said.
He said Pakistan stood by the joint declaration issued after his meeting with Prime Minister Manmohan Singh at Sharm el-Sheikh in July last year.
Pakistan has 'all along been calling for the resumption of dialogue but unfortunately it was the Indian side which had not found it feasible,' the statement quoted Gilani as saying.
Gilani said the Indian government 'should realise that continuing (to be) impassive in negotiations between the two countries would only benefit the militants and terrorists who were holding the bilateral relations between the two countries hostage.'
Kerry and Gilani held wide-ranging discussions on various issues, including the war on terror and the new US policy for Afghanistan.
Kerry, who was in New Delhi on Monday, welcomed the upcoming foreign secretary-level talks between India and Pakistan and said there is 'tremendous potential for utilizing this opportunity for the good of the people of the two countries.'
He expressed the US government's willingness for facilitating the resumption of the Indo-Pak dialogue process in which 'all the core issues, including Kashmir and water dispute, can be discussed and resolved by both sides peacefully,' according to the statement.
Image: US Senator John Kerry meets with Pakistan Prime Minister Yusuf Raza Gilani in Islamabad on Tuesday
Photograph: Adrees Latif / Reuters