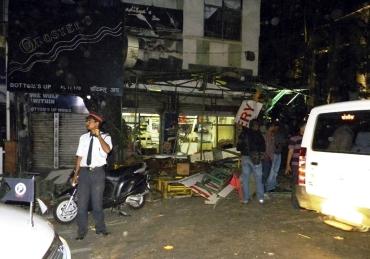 Terror struck Pune on Saturday night as a powerful bomb ripped apart a popular bakery near a Jewish prayer house, killing nine people, including five women and a foreigner, and injuring 32 others, in the first major attack since the 26/11 carnage.  
The improvised explosive device, kept in an unattended packet outside the kitchen of the German bakery, exploded at approximately 7.30 pm, when a waiter attempted to open it.
The German bakery is a favourite food joint for foreigners, located close to the Osho Ashram, which had been surveyed by Pakistani-origin American David Coleman Headley, a Lashkar-e Tayiba operative. Pune's Police Commissioner Satyapal Singh said nine people had been killed in the blast and of them five are women.
Quoting information from the state government, Home Secretary G K Pillai told mediapersons in New Delhi that one each of the killed and the injured are foreigners, but could not give their nationalities. The rest, he said, were believed to be Indians but the situation could change.
The chief minister announced an ex-gratia of Rs one lakh for the kin of those killed and Rs 50,000 for those injured.
"We are sending a forensic team of the Central Bureau of Investigation and personnel of the National Investigative Agency," Pillai said.
said that it would take time to identify the victims as the bodies had been charred beyond recognition.
While some foreigners were believed to be among the dead, a senior police official said it was difficult to confirm their identity and nationality, as their faces were charred beyond recognition.
Maharashtra Minister of State for Home Ramesh Bagve, who is a Member of Legislative Assembly from the constituency, said as many as 40 people were injured, three of them seriously. He said five to six foreigners were among the injured.
Teams from the Anti-Terrorism Squad and bomb disposal squad visited the spot to ascertain the nature of the blast.
The scene of the blast, that destroyed the bakery, was littered with thick patches of blood and severed limbs.
"I was traveling by an auto-rickshaw. I heard a loud explosion and then the ground shook", said Santosh, one of the injured in the blast. An eyewitness said there was a loud bang which shook the entire area, and then "I saw a fire".
Rohan Jagan adds from Pune: Police sources said five out of the nine deceased victims are foreign nationals, but their nationalities have not been confirmed yet.
Preliminary reports indicate that another bag of explosives has been found at the site
According to sources, on October 12, 2009, the Centre had issued an advisory to the Pune police and district administration, citing a terror threat to the city.
Image: The German bakery in Pune after the blast | Photograph: Rituparna Bhowmik/Reuters