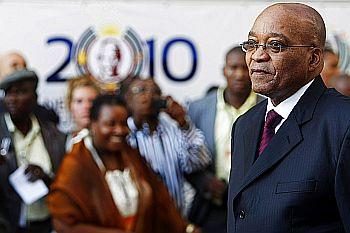 South African President Jacob Zuma has acknowledged the role of the Indian community in his State of the Nation address at the opening of the Parliament in Cape Town.
"In November this year, we will mark the 150th anniversary of the arrival of Indians in South Africa," Zuma said on Thursday.
"It provides an opportunity to recognise the important contribution of the Indian community in the fields of labour, business, science, sport, religion, arts and culture in the achievement and consolidation of our democracy," he said.
Zuma addressed the nation live on television and radio on wide-ranging proposals, from cutting crime and improving education to creating employment and ensuring service delivery in all areas.
As Zuma extended condolences on behalf of his countrymen to the people of quake-stricken Haiti, he singled out South African Indian doctor Imtiaz Sooliman, founder of relief organisation Gift of the Givers, which was the first rescue team to reach the Caribbean nation.
"I would like to especially recognise (Sooliman as) one South African who never fails to assist in times of disaster and helps us to promote a vision of a caring society," Zuma said as the Indian graciously acknowledged the accolade from the gallery.
Quoting world icon and the country's first democratic president, Nelson Mandela, who was in the audience, Zuma called on South Africans to work together as they marked the 20th anniversary of Mandela's release from prison after 27 years.
"Let us commit ourselves to reconciliation, national unity, and non-racialism in building a better future together as South Africans, black and white," the South African president added.
Image: South Africa's President Jacob Zuma arrives for the opening of Parliament in Cape Town on Thursday
Photograph: STR New / Reuters