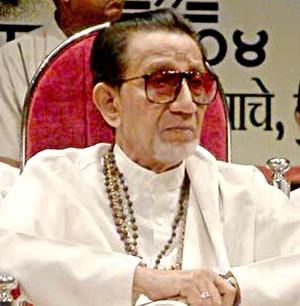 Virtually conceding that his party was whittling down its agitation against Shah Rukh Khan [ Images ] and his latest film My Name is Khan, Shiv Sena [ Images ] chief Bal Thackeray [ Images ] on Friday said "those who want to see the film could do so."

"Let cinema theatre owners who love Khan's love for Pakistan show the film.... and let those who like pro-Pak elements (Khan), see the film," Thackeray said in a statement late Friday.

He claimed the agitation against MNIK was successful, saying "whatever Shiv sainiks had to do, they did".
Read rediff reviews on the film: Raja Sen | Savera Someshwar | Sukanya Verma