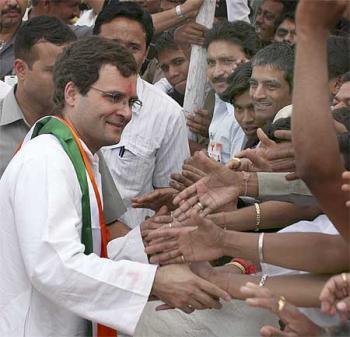 Congress general secretary Rahul Gandhi will travel to Azamgarh and interact with students of the 134-year-old institution, the National Shibli College, one of the most respected educational institutions in the country.
Sources say that the details and timing of the visit are still being worked out.
To most people this may seem like yet another foray by Rahul to educational institutions around the country, the visit to Azamgarh is different. The suggestion for the visit has come from Digvijay Singh, the AICC general secretary in-charge of Uttar Pradesh, who has just returned from a visit to Azamgarh where he met the families of many teenagers who have a number of cases slapped against them for suspected terrorist activities.
Digvijay Singh met Congress president Sonia Gandhi on Tuesday and gave her a detailed brief on the cases against boys and asked for a speedy and fair trial. Digvijaya Singh while submitting his report recommended that Rahul Gandhi should visit the prestigious university and interact with students there. He said that if those against whom there are cases are guilty, they should be booked and if they are innocent, the cases should be dropped. Whatever, this should be done at the earliest, he told Sonia.
It is learnt that Sonia Gandhi agreed with the report of Digvijaya Singh and said that she would speak to the government on this issue.
While the visit of Digvijaya Singh created a considerable amount of furore both within his own party and outside, it was clarified by him that he had gone after discussing the issue with Rahul Gandhi.
This issue is being seen in political circles as Rahul Gandhi's attempt to woo Muslims with the Samajwadi Party having hit an all-time row and Muslims deserting Mulayam Singh Yadav.
Sources say that apart from wooing the Muslim votebank, the Rahul-Digvijaya combine is also keen to send the signal that the Congress leadership believes in fairplay and justice and while there would be no attempt to protect the guilty, they would like to create an environment where the innocent are not denied justice.
 
Senior Congress leaders claim some of the suspects are educated and intelligent who have worked hard to get an education and if justice is denied to them, it may create a new breed of terrorists who would turn to the gun.
Sources say that within the Congress there are apprehensions that reopening the Batla House encounter and speaking up too vociferously for Muslim boys may lead to a Hindu backlash and that the party would need to guard against taking the issue too far.
But a senior leader said while visiting the college, Rahul would be emphasizing on the historical importance of the college and that how it has always been a symbol of Hindu-Muslim unity.