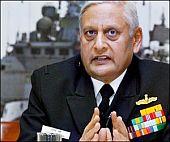 Dismissing China's anti-ship missile programme as a threat to Indian warships, Navy chief Admiral Nirmal Verma today said it would be a difficult task to even spot the vessels in the vast expanse of high seas.
"Targeting ships at high seas is not an easy task or as simple as land warfare," Admiral Verma told media persons on the sidelines of a seminar on aircraft carriers organised by the National Maritime Foundation in New Delhi.
"There are hundreds and thousands of ships in the sea at any given time. It is extremely important to spot the ship before targeting it. There are limitations in terms of maritime reconnaissance and long-range searches," Verma said when asked about the threat posed by Chinese Anti-ship Ballistic Missile Programme.
He said it was "a complex problem" to use a conventional missile against a moving target at high seas.
Earlier, addressing the seminar, the Navy chief said aircraft carriers were expensive and there were questions on their affordability and survivability due to their large size while at sea.
"Some event talk about carrying out land-based missile attacks against an aircraft carrier. We must weigh this against the difficulties of targeting a mobile target out at sea," he said, noting that carriers can move 600 nautical miles a day, which translates into one million square nautical miles of ocean area, which an adversary has to search.

Verma said this was a Herculean task for even the best of navies, satellite and aerial surveillance.

"Should an adversary manage to evade a plethora of air, surface and sub-surface escorts and be capable of hitting a carrier, sinking it or putting a carrier out of action is by no means easy," he said.

He said the sheer size, build philosophy and damage control features provided an aircraft carrier an amazing capacity to absorb damage.
On the huge cost involved in acquiring an aircraft carrier, Verma said the long range of capability a carrier provided a nation with during times of peace and war more than justified the costs.
He said an aircraft carrier provided surveillance cover in nearly two lakh sq nautical miles of ocean area and the airspace above.
Asked about the depleting strength of the Navy's submarine fleet, Verma said at present India had only 16 submarines and the number was likely to go further down due to decommissioning of some ships in the near future.
"At present, the number is 16 submarines. In the coming years, some decommissioning will take place," he said.

Noting that India was successful in stretching the life of not only aircraft carriers, but also other ships, he said those efforts would continue, as it was found to be an effective system for upgrades.
On the delay in Scorpene series missiles, the Navy chief said his force was looking for a second line of production for the submarine, as there "is a requirement for upping speed" of construction.