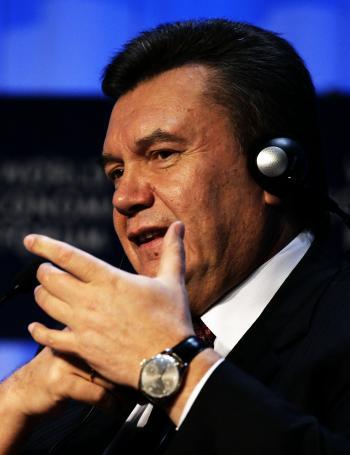 Pro-Russia candidate Viktor Yanukovych has emerged the clear winner in Ukraine's keenly fought Presidential elections after the counting of over 99 percent votes polled in the polls.
"Victory of Yanukovych is evident," a member of the Central Election Commission Mikhail Ohendovsky was quoted as saying by UNIAN news agency.
Ukraine's foreign policy is expected to become more pro-Russian under the 59-year-old former mechanic.
He said Yanukovych's rival, Prime Minister Yulia Tymoshenko was trailing with the margin of over 3 per cent votes. However, the official results are to be announced only on February 17 in accordance with the electoral laws.
After counting of 99.44 per cent votes, Yanukovych got 48.81 per cent votes against Tymoshenko's 45.61. In all 4.37 per cent votes were cast against both the candidates.
Out of total 37 registered voters 12 million 372 thousand and 737 voters had cast their votes for Yanukovych against 11 million 562 thousand and 112 in favour of Tymoshenko.
Tymoshenko on Monday cancelled her scheduled press conference and is meeting with her parliamentary group tonight and is expected to make a formal statement only on Tuesday.
Observers in Moscow are keenly watching the situation, although the Kremlin's ambassador in Kiev Mikhail Zurabov last night visited the campaign headquarters of both Yanukovych and Tymoshenko and declared that any candidate elected by the people of Ukraine would be acceptable for Russia.
© Copyright 2021 PTI. All rights reserved. Republication or redistribution of PTI content, including by framing or similar means, is expressly prohibited without the prior written consent.