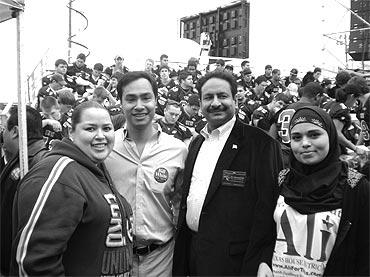 With nearly two decades as a professor in several American cities and now the owner of two biotech companies, one in San Antonio and the other in the Bay Area, Masarrat Ali could have started his political career with some style. But he chose last year to be a foot soldier, running a precinct for Barack Obama in San Antonio.
"Running a precinct is the lowest of low political assignments," he says. "But I wanted it that way, and I could start studying how the political machine works from the bottom to upwards."
Ali, the Democratic Party candidate for District 122 (in San Antonio) for the Texan House of Representatives, adds, "I believe in grassroot politics, and I have never fancied people who throw away their own money and seek political office. I have been active in politics because I have felt for a long time, and especially after 9/11 that unless we are engaged in the political process, we cannot really make a difference. We should connect with the mainstream, we should contribute to the larger society, and only then we will be able to fight for our rights effectively."
Ali, the founder of Muslim Education and Civic School in San Antonio that over the weekend teaches Islam, its culture and some American history to more than 350 students from over a dozen ethnic backgrounds, says his fight for the House is to advance the cause of all immigrants.
He has been planning to run for the election for over three years. Many people told him incumbent Republican Frank Corte -- Ali calls him a rightwing politician -- was too well entrenched.
"I was not worried," Ali says. "I had a feeling he had taken a lot of things for granted and I would be able to challenge him effectively on many issues — particularly the failing education system in Texas and the alarming dropout rates in schools and colleges. These things affect not only immigrants but all Texans. I would join hands with other Democrats in advancing the cause of education."
For years, people thought Corte was so invincible that there was no point in putting up a fight against him, Ali says. In some elections he had no opponent.
"But San Antonio has been changing and people are ready to back a good candidate, even if he is an immigrant," Ali adds.
Immigrant support is important for Ali. There are about 1,000 families of South Asian and Middle Eastern origin in San Antonio, he says. About 15 percent of them are from India.
Jhansi-born and Aligarh-educated Ali, 55, comes from a poor family. "I understand what struggle is," says the father of three children. Ali's father Maqbool Ali was a tailor. With a family of nine children, his earnings were not sufficient. Masarrat, the eldest of the children, was a high aspirant from his childhood.
"I have been a risk taker, too," he says. Many wellwishers thought he should stick to teaching, and not start a biotech company.
"I believed vision, planning and hard work would never fail," he says, adding the success of his companies proves that.
As he began planning for his run, he heard that the incumbent had decided to retire. 
Texas is a Republican state, and the seat he is seeking has been held by Republicans for 18 years. But nothing in politics is secure, he says. Though a Republican candidate is yet to emerge, Ali spends many hours a day connecting with the voters.
The biggest inspiration for him is Obama. The president's popularity and approval ratings have come down significantly in recent months but Ali says any Democrat who has a good agenda and a professional or political track record can forge ahead.
"One of the good things in running for the state assembly here is that you have to be in Austin for just about six months in a year," he says. "And that leaves me enough time for my family and business plans."
Though he is contesting in a Republican-leading district, and he is Muslim, he says there are many broadminded voters who are not swayed by a candidate's origin, religion or the color of his skin.
'If Obama could happen, why not Masarrat?' he has said many times '[Obama's] victory has given hope to all minorities.'
The election would cost Ali at least $500,000.
"Personally I cannot afford that kind of money," he says. "And that means there will be a lot of fundraising events in the next seven months."