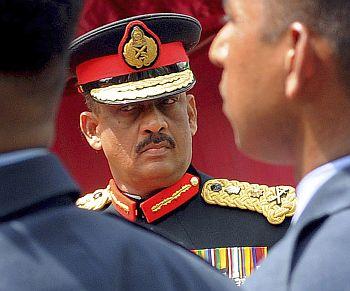 Sri Lanka's defeated opposition presidential candidate Gen Sarath Fonseka was on Monday night arrested by the army and will be court-martialled for military offences committed while he was in service, a fortnight after he suffered defeat at the hands of incumbent Mahinda Rajapaksa.
59-year-old Fonseka, the former army chief credited with the annihilation of the LTTE, was arrested along with his media secretary Senaka de Silva while on work at their office in the capital.
Defence Spokesman Maj. Gen. Prasad Samarasinghe, who assumed charge today, told PTI that Fonseka was taken into custody by the Army and will "face court-martial proceedings for military offences committed during his service."
Director General of the Media Centre for National Security Lakshman Hullugala told state television that Fonseka, a retired four-star general who served the Sri Lankan Army for nearly four decades, will be court martialled.
In dramatic turn of events, army men surrounded Fonseka's office and arrested him and his aide. Another aide of the former Army Chief told PTI that "Fonseka and de Silva were told in clear terms to cooperate with the military police".
"I heard one of the officers telling Fonseka that he is being charged for criminal conspiracy," he said.
Opposition leaders said the army men "forcibly took away General Fonseka while he was having a discussion with three other senior opposition leaders.
Fonseka's office was cordoned off by heavily armed troops who blocked reporters and photographers from entering the building and taking pictures.
The arrest comes in the wake of reports that Fonseka could face a military court on charges of conspiring to overthrow the government and plotting to kill Rajapaksa.
The Sunday Times newspaper had yesterday said that the Rajapaksa-led government, which alleged soon after the presidential poll verdict that the former military chief had plotted to kill the President, has consulted its top legal counsel on trying Fonseka in a court martial.
The government has sought legal advice on using a military court to fast-track proceedings against Fonseka who led the army in crushing the LTTE, who showed no signs being defeated militarily just three years ago.
Earlier this month, Rajapakse sacked a dozen senior military officers whom the defence ministry said were a "direct threat" to national security.