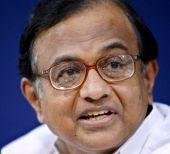 Home Minister P Chidambaram on Saturday said the National Security Adviser should have very few executive responsibilities over internal security, which he felt must come under political oversight.
"... But whether he (NSA) should have executive responsibility, given the pressure of work and time, is I think an open question. My personal view is that he should have very few executive responsibilities as far as internal security is concerned. That should be given to another professional," he said.
Asked whether the role of NSA should be cut down from being an intelligence overlord to the Prime Minister's adviser, Chidambaram told CNN-IBN: "Let him take over any of these responsibilities. Although all I said was whoever is doing whatever, it must be under the political oversight. And I happen to be the person providing the political oversight. Therefore everybody accepted that."
The Home Minister's comments assume significance in the context of M K Narayanan moving out of his role as NSA to West Bengal as Governor after Chidambaram spoke of restructuring the Home Ministry and creation of a new security architecture.
When told that it did not happen during his predecessor Shivraj Patil's time and that he did not assert over the NSA, he said: "That is how it should be. Isn't it? It was not, for whatever reason I do not know. But if I was going to be responsible, as I was made responsible on that day, then I was going to make sure, that I know what was going on."
"The only way that I could know what is going on, what happened and what did not happen, was to exercise political oversight over every agency that is concerned with security," he added.

Chidambaram said the NSA is essentially adviser to the PM and adviser to the National Security Council. "Surely, he must be in the loop as far as the internal security is concerned. How can he not be in the loop? He has to be in the loop," he said.