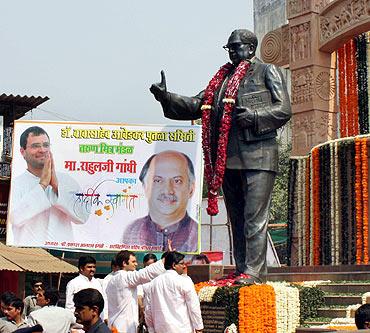 Congress leader Rahul Gandhi's visit to Mumbai on Friday had a surprise twist.
The Gandhi scion's official plan was to travel to meet students in suburban Vile Parle's Bhaidas Hall and then go on a chopper to Ramabai Ambedkar Nagar in the eastern suburb of Ghatkopar.
However Rahul saw his visit as an opportunity to score some brownie points by interacting with the people. So after exhorting a 1,000 odd students 'to be the agents of change' and join politics, Rahul then simply got into his vehicle and travelled to Andheri railway station.
Here he withdrew money from an ATM outside the station and then to the consternation of the SPG commandos guarding him and to the surprise and shock of commuters he stood in a queue to buy a first class ticket to Ghatkopar.


At the Andheri railway station ticket counter, Rahul humbly stood in the queue accompanied by couple of his bodyguards. When the people recognized him, they urged him to break the queue and directly buy a ticket. However Rahul declined their offer. He continued to decline till a gentleman pointed out that since he would be buying a first class ticket, there was no need for him to stand in the queue. After this, Rahul went to the ticket window and got his tickets.

Rahul then got into the train along with his SPG personnel and Mumbai Police Commissioner D Shivanandan. Rahul's visit to the railway station caused commotion among commuters who jostled to hear him speak and begged for autographs. Rahul he did oblige a few and also chatted with a few commuters.
Alighting at Dadar, Rahul was soon greeted by scores of commuters who waved at him and wanted to shake hands. Here too he obliged a few including a beggar at the station. Once again at Dadar, he surprised people by travelling in a second class compartment to Ghatkopar. While many in the compartment were unnerved at the sight of so many gun toting commandos, a few managed to speak to Rahul.
At Ramabai Ambedkar Nagar, he garlanded the statue of Babasaheb Ambedkar and then spoke to a few slumdwellers and inquired about their well being. So sought after was Rahul that Maharashtra Minister of State for Home Ramesh Bagwe was seen carrying Rahul's shoes for safe-keeping when the Congress leader went on to garland the Ambedkar statue.
Not all were pleased however with Rahul's change of plans. For instance at Dadar station which is usually quite crowded saw the whole station becoming chock a block with people wanting to have a glimpse of the Congress leader and this resulted in a number of commuters missing their trains.
Even in Ramabai Ambedkar Nagar not all were happy, Jaywant Hire, a resident, said, "The area has not seen any development over the years, now however with his visit the entire area had been cleaned. However once he goes back everything will be back to the same."
The Mumbai cops had boosted security to unprecedented levels in anticipating of Rahul's visit due to the latter's war of words with the Shiv Sena on the migrants' issue.
Hundreds of Sena office bearers like vibhag and shakha pramukhs who control the party cadre locally were picked and detained since Thursday evening. Though there were a few incidents like in D N Nagar, where cops had to lathi-charge a Sena mob that was protesting Rahul's visit. Similarly Sena Corporator Rajul Patel who wore a black saree also was detained. Jogeshwari MLA Ravindra Waikar also got in to a heated argument with Joint Commissioner of Police Rakesh Maria.
Image: Rahul Gandhi pays tribute to Babasaheb Ambedkar's statue in Mumbai on February 5. Photograph: Sahil Salvi