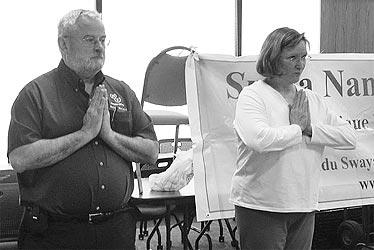 Continuing a tradition started four years ago, the annual Health for Humanity Yogathon organized by the Hindu Swayamsevak Sangh has attracted thousands of participants across the United States to perform the Surya Namaskar.(sun salutation exercise)
The program that began on Makar Sankranti--January 16--saw 1,194 participants performing 39,173 Surya Namaskars at 55 places in the first five hours. The Yogathon involves a nationwide HSS effort to create awareness about  yoga and its advantages. The HSS encourages its members and others at its 140  centers to perform 10 lakh Surya Namaskars.
Participants included Mayor William McLeod of Hoffman Estates, a suburb of Chicago, Illinois. The City of Decatur in Georgia declared January 17 as Yoga Day. A 24-hour Yogathon was scheduled at Keshav Smruthi in Houston.

"Over 25 organizations are joining  the movement for the first time in Houston," said Vijay Pallod of Hindus of Greater Houston, who coordinated the event.
The center at Billerica in Massachusetts saw 3,310 Surya Namaskars being done in the first two hours. Among the participants were several children under 12, according to Vikas Deshpande, an organizer based in Boston.
Last year, more than 6,500 people from 34 states participated in the Yogathon, performing in total over 700,000 Surya Namaskars, the organizers said. The Surya Namaskar was added to the Makar Sankranti celebrations in Houston three years ago at the George Bush Park. 
The festival is organized by the Vishwa Hindu Parishad of America, the Gujarati Samaj of Greater Houston and the Hindus of Greater Houston, with other organizations.  The Gujarati Samaj served free Khichri and buttermilk, while Ekal Vidyalaya volunteers provided masala tea. Swami Nikhilanand of the JKP Barsana Dham in Austin, Texas, the chief guest,  inaugurated the Surya Namaskar Yogathon.
The Makar Sankranti and Swami Vivekananda birth celebrations were started by the Vishwa Hindu Parishad of America and the Hindu Swayamsevak Sangh in 1989. "We are very pleased that several thousand people came together to celebrate Makar Sankranti," said Pradip Parekh, president-elect, VHPA Houston.
Image: Mayor William D McLeod of Hoffman Estates, a suburb of Chicago, does the Surya Namaskar with his wife during the Yogathon