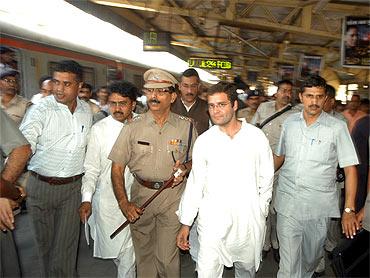 Congress leader Rahul Gandhi took the commuter train on Friday to address a public meeting at Ramabai Nagar in Mumbai's suburban Ghatkopar to send out a strong message to the Shiv Sena.

After addressing college students at Bhaidas Hall in Vile Parle, Rahul boarded a commuter train to Dadar and then switched raliway lines to travel to Ghatkopar.

The Congress leader was initially scheduled to travel to his second venue on a chopper. He was to land at the Vikhroli heli-pad and then proceed to the Ghatkopar venue.


"We were not informed in advance about his travel by train. However, Railway Police Force was there to keep vigil," Western Railway PRO C David said.

"He got into a first class coach of a Kalyan-bound train at Dadar and got off at Ghatkopar, which is four stations away," Central Railway PRO A K Singh said. Rahul was accompanied by his security personnel.

Media sources said Rahul sought to alter his travel plans to send out a strong message to the Shiv Sena, which had warned him against coming to the city following the former's 'Mumbai for all Indians' remark.

As per reports, he himself bought his ticket before boarding the train. He had also made an unscheduled stop at an ATM to withdraw money.

Earlier in the day, around 40 Sena activists were detained after they tried to disrupt peace around the first venue where Rahul was to visit.

Sena corporator, Rajul Patel, wearing a black sari, and two others were picked up while trying to make way into the Bhaidas Hall in suburban Vile Parle without proper invite, the police said.
Tight security measures are in place after Sena chief Bal Thackeray asked his partymen on Thursday to show the Congress leader black flags to protest his remarks on Mumbai.
The Mumbai police is taking no chances and has sent notices to Shiv Sena leaders across Mumbai not to indulge in any illegal activity on Friday.
Gandhi, who arrived at Mumbai airport on Friday morning, was received by Maharashtra Chief Minister Ashok Chavan and other party bigwigs. Sources said a chopper has taken him to the Pawan Hans Veledrone in Vile Parle area, where addressed a youth Congress function.
Mumbai Police Commissioner D Sivanandan said, "All precautions have been taken to ensure that Rahul Gandhi''s programmes pass off peacefully. Policemen have been deployed in large numbers at all places."
Congress sources said the party is nervous about security arrangements in the wake of the Shiv Sena threat against Gandhi.

On reaching Ghatkopar, Rahul offered flowers at the statue of Dr Ambedkar. He was accompanied by Chief Minister Ashok Chavan, state Congress chief Kripashankar Singh and other Congress leaders.

Jaywant Hire, a resident of Ramabai Ambedkar Nagar, said the streets that had been in miserable state all these years had got repaired and cleaned thanks to Rahul's visit to the locality. 

Image: Rahul Gandhi at the railway station
Photograph: Sahil Salvi

Additional Inputs: PTI