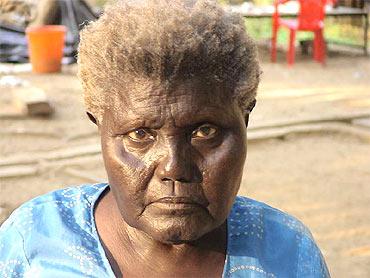 Everybody dies. But not everybody's death leads to the death of an entire clan.
But that is what happened in the Andamans Nicobar Islands, when Boa Sr, the last member of a unique tribe, died last week. 
Boa Sr, aged 85, was the last speaker of 'Bo', one of the 10 Great Andamanese languages, says a report in Survival.
The Bo are said to have lived in the Andaman Islands for as much as 65,000 years, making them the descendants of one of the oldest human cultures on Earth.
Boa Sr was the oldest of the Great Andamanese. Originally 10 distinct tribes, the Great Andamanese were 5,000-strong when the British colonized the Andaman Islands. Most were killed or died of diseases
After having failed to lure them, the story goes, the British tried to civilize them by relocating them in an Andaman Home. Expectedly, of the 150 children born there, none survived beyond the age of two.
The Survival reports:  Linguist Anvita Abbi, who knew Boa Sr, said, 'Since she was the only speaker of Bo she was very lonely as she had no one to converse with… Boa Sr. had a very good sense of humour and her smile and full throated laughter were infectious.
Survival's director Stephen Corry said, "The Great Andamanese were first massacred, then all but wiped out by paternalistic policies which left them ravaged by epidemics of disease, and robbed of their land and independence."
'With the death of Boa and the extinction of the Bo language, a unique part of human society is now just a memory. Boa's loss is a bleak reminder that we must not allow this to happen to the other tribes of the Andaman Islands.'
Boa Sr survived the 2004 tsunami and famously told linguists, 'We were all there when the earthquake came. The eldest told us 'the Earth would part, don't run away or move'. The elders told us, that's how we know.'      
Now, there is no one like an elder. For that matter, a young one. The final epitaph is sealed. Is anyone listening?
Image Courtesy: Alok Das/Survival.