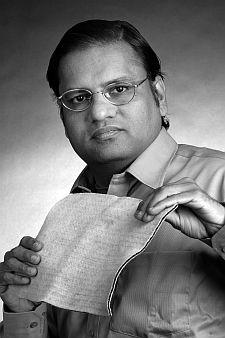 Dr Seshadri Ramkumar, who is working to open a new world of nonwoven fabrics and advanced materials for industrial and personal use, has been awarded the Texas Tech University System's Chancellor's Council Distinguished Research Award.

Nonwoven fabric is manufactured by putting small fibers together in the form of a sheet or web and then binding them either mechanically with an adhesive or thermally. One needs to put the raw material on one end of the machine and the fabric comes out of the other. The resulting materials have immense use in industry. Recently, scientists have started to use cotton too in place of synthetic materials like polypropylene to create the nonwovens.

"In future, thinner and stronger garments could be made out of the cotton," said Ramkumar, an associate professor of nonwovens and advanced materials at The Institute of Environmental and Human Health in Lubbock, Texas. It is part of the Texas Tech University. The lab's special focus is on finding value-added applications to cotton and other natural fibers using emerging technologies like nonwoven technologies, plasma and nanotechnology.

The award is the highest honor given by the university system to a faculty member who has excelled in research. The university system awards a top researcher at each of its three universities, Texas Tech University, TTU Health Sciences Center and Angelo State University. Ramkumar received the award for Texas Tech University.

Since 2004, he has been trying to grow the nonwoven and technical textile industry base in India. A Finnish company recently set up a factory capable of producing 12,000 tones of nonwoven materials in Gujarat.

Ramkumar also serves as the co-chairman of the Association of the Nonwoven Fabrics Industry's India committee. He earned his PhD from Leeds University, United Kingdom. He joined Texas Tech in 1999 and the Institute of Environmental and Human Health in 2002.He designed and developed the Indo-US collaborative conference called Advances in Textiles, Machinery, Nonwovens and Technical Textiles. It has been held every year in India since 2004.
Image: Dr Ramkumar with a wipe made out of nonwoven fabric