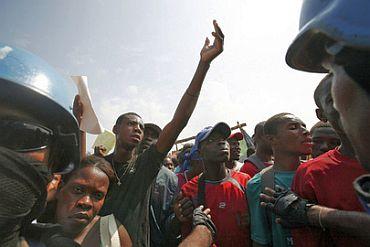 India on Tuesday became one of the first nations to transfer $5 million to the government of Haiti for relief and rehabilitation, honouring its commitment to provide succour to the people of the quake-hit country.


At a brief ceremony at India's Permanent Mission to the United Nations in New York on Wednesday, Indian Ambassador Hardeep Singh Puri handed the check for $5 million and documentation relating to the transfer of money to Ambassador Leo Merores, permanent representative of Haiti to the UN.


"Although the international community has pledged $2 billion dollars in assistance to Haiti, few have so far handed the actual amount. That way, today, India came forward to help as fast as it could," diplomatic sources told rediff.com.


During his meeting with Puri, the Haitian ambassador expressed gratefulness to India for its quick help and benevolence, describing it as an "extremely generous" humanitarian gesture.

"This would be acknowledged and gratefully appreciated at the highest level of the government of Haiti," the sources said quoting Merores.


Ambassador Puri described the gesture as a token of solidarity for the suffering people of Haiti.

"Our government is committed to assisting Haitians and we will work with you in which ever way it is possible," Puri said.


The sources said that as the Haitian government is moving from humanitarian phase of relief to reconstruction, they are likely to request for help in building low cost housing in which India has experience in Gujarat and Maharashtra that were hit by earthquakes some years ago.

"Haiti is also looking at the possibility of India providing Jaipur foot because of the huge number of amputees in Haiti. They are also likely to seek out help in rebuilding some landmark buildings, may be a hospital, a college or even the President's house. But it was not specified," the sources said.

India has experience of rebuilding in places like Kabul in Afghanistan and also in Ghana.

India is operating through the trilateral -- India-Brazil-South Africa Initiative -- and is also looking at increasing its investment and technical and cooperation in Haiti.

"The Indian police contingent, which, under the United Nations Peace Keeping Mission is substantially helping the Haitian population in times of distress and disorder may well the doubled soon," the sources said.

"India has been asked by the United Nations for additional contingent of the same size and may ask us for more," the source said.

Image: The United Nations Stabilization Mission in Haiti (MINUSTAH) provides security during a joint food distribution by the UN World Food Programme (WFP) and the Agency for Technical Cooperation and Development (ACTED) in Leogane, as Haitians surround the distribution centre.
Photograph: UN Photo