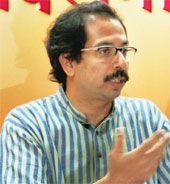 Targeting the Rashtriya Swayamsevak Sangh over its spokesperson Ram Madhav's statement about protecting north Indians against any discrimination in Mumbai, Shiv Sena executive president Uddhav Thackeray on Monday asked the Sangh not to interfere on the issue of Mumbai.
"Ram Madhav should not worry about Mumbai issue and should not teach us patriotism and unity," Uddhav told media persons.
"During the 1992 Hindu-Muslim riots, Sena protected Hindus but where was RSS that time," Uddhav said.

Ram Madhav should worry about south Indian states and teach Hindi in those states, Uddhav said.
Setting aside Shiv Sena's claim that Mumbai was for Marathi manoos only, RSS chief Mohan Bhagwat had said recently: "Mumbai is for all Indians. People of all languages, communities, tribes are children of India...Nobody can prevent Indians from moving to any part of the country in search of employment."

On the Maharashtra-Karnataka border dispute, Uddhav said thousands of Marathi people had been discriminated against in Karnataka, but Madhav never spoke anything on their behalf.

Uddhav also asked why was RSS silent over discrimination of Hindi-speaking people in Assam.
Reiterating Sena's stand on Marathi people, Uddhav said, "Anyone coming in the way of Marathi people, would have to first face the Sena."
Meanwhile, Mumbai Regional Congress Committee president Kripashankar Singh has criticised Ram Madhav's statement, saying, "RSS could not prevent Mahatma Gandhi's assassination... how can they prevent attack on north Indians."