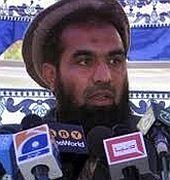 A Pakistani anti-terrorism court conducting the trial of seven suspects charged with involvement in the Mumbai attacks on Monday dismissed a bail petition filed by Lashkar-e-Tayiba operations commander Zaki ur Rehman Lakhvi.
Judge Malik Muhammad Akram Awan of the Rawalpindi-based anti-terrorism dismissed Lakhvi's bail application on the ground that it could not be maintained, sources said.

Lakhvi's lawyer Khwaja Sultan, who has been accused by the prosecution of filing numerous petitions to delay the trial, told PTI that his client would not approach the Lahore High Court for bail.

"We will decide on the date for filing the application in the High Court after getting the anti-terrorism court's detailed order," Sultan said.
Sultan claimed that bail should be granted to Lakhvi as the prosecution had been unable to produce any solid evidence linking him to the 2008 Mumbai attacks.
He contended that the prosecution's case was based only on the confessional statement of Ajmal Kasab, the terrorist convicted and sentenced to death by an Indian court for his role in the attacks.
The prosecution had produced five policemen, who testified that Lakhvi was a top LeT commander but had been unable to give any proof linking him to the Mumbai incident, he claimed.
The prosecution had challenged the bail application, saying there was enough evidence to nail Lakhvi.
The next hearing in the Mumbai attacks case is scheduled for September 18.

At that hearing, Judge Awan is expected to take up two applications filed by the prosecution -- one seeking voice samples of the seven accused and another for an Indian magistrate and police official to testify via video conferencing.
Defence lawyers have opposed both applications, saying they are not permissible under Pakistani laws.
Lakhvi was arrested last year for his involvement in the 2008 Mumbai attacks.
India says that the Lashkar carried out the attack on Mumbai that killed 166 people and has put the Composite Dialogue process with Pakistan on hold. New Delhi has linked its resumption to Pakistan's action against terrorism emanating from its soil against India.