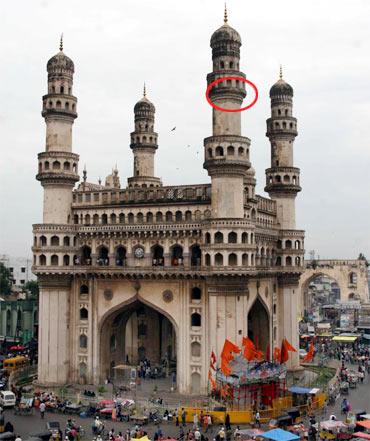 Overnight heavy rain in Hyderabad has claimed lives of three children of the same family, caused minor damage to the historic monument of Charminar and left several low lying areas under water.
Three children were killed and five others were injured when a house collapse in Phool Bagh area under Chandrayangutta in Hyderabad on Sunday night after incessant rains.
A wall of the asbestos roofed house abutting an over flowing drown collapsed brining down the roof. Three children of an auto driver Mohammed Yusuf were buried alive in the debris of the wall.
They have been identified as a year old Hina, two year old Suhail and four year old Taher. Four daughters and the couple were admitted to Osmania Hospital after they were rescued by the local residents. Yusuf's family had taken the house on rent.
On hearing about the incident, area legislator Akbaruddin Owaisi, Mayor Kartika Reddy and other officials of Greater Hyderabad Municipal Corporation rushed to the place. Mayor held the local officials responsible for not taking action to demolish the unsafe house.
Meanwhile, panic spread in the jam packed area around Charminar on Sunday night when a decorative stucco work on the second floor of one of the minarets collapsed on the ground during the rains.
Officials said that the stucco work on south eastern minaret fell down on the adjacent temple creating a panic in the area. Traffic came to a halt as the rumours spread that Charminar was in danger.
Police surrounded the area and kept the people away for some time. Part of the debris also fell on a passing car.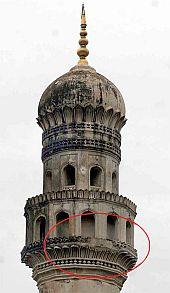 However, director of state archaeology Channa Reddy ruled out any major threat to the four centuries old monument built by Quli Qutub Shah. He said that the damage was superficial and it can be repaired. "There is no threat to the structure", he said.
Normal life in the city was thrown out of gear as the rains, which started at around 8 pm, continued till Monday morning. Traffic was jammed at many places as several feet of water turned major junctions into pools.
Hyderabad, along with the other parts of the state, was receiving heavy rains for the past one week and the major sources of drinking water Osman Sagar and Himayat Sagar were brimming with water. Hussain Sagar lake in the heart of the city has also been filled to the capacity.
Image (top):  A decorative stucco work on the south eastern minaret of Charminar was damaged due to overninght heavy rainfall
Image(below): A closer view of the damage         Photographs: SnapsIndia