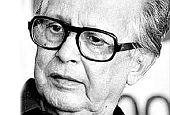 Eminent cartoonist R K Laxman was "comfortable" after undergoing a small procedure at the Military Command hospital in Pune, family sources said on Monday.
The doctors removed a tube that had been inserted in Laxman's nose while he underwent treatment in a Mumbai hospital about two and half months back after suffering multiple strokes, sources said.

The cartoonist was "comfortable" and was expected to be discharged soon, they said, clarifying that he had not suffered fresh stroke when he was admitted to the hospital in Pune on Saturday.