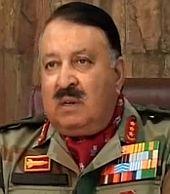 The message that emanates from China's denial of a visa to General B S Jaswal has multiple angles, feels Sheela Bhatt.
According to sources in New Delhi, China's provocative denial of a visa to the Indian Army's Northern Command commander Lieutenant General B S Jaswal may have to do with his professional and even personal opinion on China in addition to the fact that he heads Indian military forces in Jammu and Kashmir.
China considers J&K a disputed area and provoked India last year when the Chinese embassy in New Delhi began stapling visas in a separate sheet to applicants from Jammu and Kashmir and Arunachal Pradesh.
It was always believed that Chinese information gathering is quite sophisticated and the denial of visa to General Jaswal is evidence of that.
General Jaswal was part of the team within the defence establishment which elevated the risk level from China from low to medium level last year during an internal assessment.
The general has also been part of the group involved in the development of the army's new battle doctrine.
Normally, defence officials do not air their views publicly, particularly, on America, China or Pakistan.
A senior expert on China told Rediff.com, "It was a bit unusual that General Jaswal shared his views more openly than other army officers. However, China has no business to meddle in the army's internal matters. It should not target officers like this."
In fact, after denying the visa to General Jaswal, the Chinese authorities suggested that India send another general in his place instead of cancelling the visit.
The Indian government rejected the offer, issued a demarche to Beijing and cancelled a scheduled visit by a Chinese military delegation for a course at the National Defence College in Wellington, Tamil Nadu.
The message that emanates from the denial of the visa has multiple angles.
Kanwal Sibal, the former foreign secretary, told Rediff.com, "For the last few months the Chinese have been flexing their muscles in South Asia and the South China Sea. Now they have the status of being the second largest economy so their economic status is reflected in their regional and global policy. Second, whatever China is doing with regards to Kashmir is mainly to help Pakistan and indirectly force India into a final solution. Third, the Chinese are reminding India by such an act that if they wish they can trouble India."
Sibal rules out the possibility that China is raising the stakes on the Kashmir issue.
When asked if China is shifting its stand on J&K, Srikanth Kondapalli, an acclaimed expert on China, told Rediff.com, "If you go by the 19th century map of undivided Jammu and Kashmir then China is a party to a dispute of 38,000 square kilometres in J&K and 5,000 square kilometres of the Shaksgam Valley is under full control of China. If India decides to give away Aksai Chin by retaining its claim on Arunachal Pradesh, then China may not be party to a solution of the J&K issue in any manner."
India's official position is clear: J&K is a bilateral issue between Pakistan and India.
If China raises its claim in any manner (which most experts rule out), then it is disadvantage India because in tripartite talks Pakistan and China would form the majority.
Kondapalli thinks China has a certain roadmap which is unfolding slowly.
In the last few years, it has launched joint military exercises in Aksai Chin with Pakistan. It has planned road, railway and hydroelectric projects in the area.
In 1963, Pakistan transferred the Shaksgam Valley to China under an agreement that its status would be finalised after the final solution of the Kashmir dispute.
But China is showing signs that it is not keen to abide by that agreement with Pakistan in letter and spirit, feels Kondapalli.
Mirwaiz Umar Farooq, chairman of the moderate faction of the separatist Hurriyat Conference in Jammu and Kashmir, has often called for a joint contact group on Kashmir between India, China and Pakistan. He has well-established contacts with the Chinese and has been invited to visit that country.
Last November, he said, 'I believe China is not a party to the conflict (over Kashmir) but China has a stake as far as peace in the region is concerned.'
In May 2006, India and China signed a Memorandum of Understanding to explore and enhance military exchanges when Pranab Mukherjee was defence minister; it was far from the idea of military cooperation, but it accelerated bilateral visits.
Following the agreement, Indian and Chinese soldiers conducted military exercises and war games in Kunming, the capital of China's Yunnan province on the north-east border with India.
Both countries also conduct defence secretary-level talks annually.
The Chinese district military head of Tibet and Chengdu has visited India's eastern sector, but not J&K.
Image: Lieutenant General B S Jaswal, the Indian Army's Northern Army commander.